News
Baby Mystery! TV Personality Sonia Kruger Got Pregnant With Her Partner? Or Is It Something Else?
Sonia Kruger, a 51 years old Australian television presenter made her wish come true a couple of years ago. What was that wish you ask? That wish was getting pregnant which nearly seemed impossible at that moment. Let's find out if it all went down with her partner or did she have any extra help for it.
Sonia Kruger became pregnant at the age of 49 years old and later gave birth to her baby daughter on January 24, 2015. Now, we know that you might be wondering how that happened as fertility rate in women becomes zero after the age of 45 years old. So, how did she made it all workout?
Even before she gave birth to little Maggie McPherson, she revealed everything about how she managed to become pregnant. The beautiful TV presenter revealed that she underwent the process of IVF multiple times before she was successfully pregnant. Sonia and her TV producer partner Craig McPherson tried natural as well as the IVF process in order to successfully have a baby of their own but failed multiple time.
Even after her doctor were clear with her that the success rate was zero for women over the age of 45 years old, Sonia was determined to have kids. She was at last helped by her friend whose identity she has not revealed yet.
Her unnamed friend considerably younger that Sonia became an egg donor. That is how Sonia got pregnant and she does not calls being pregnant at 49 with her daughter Maggie a miracle.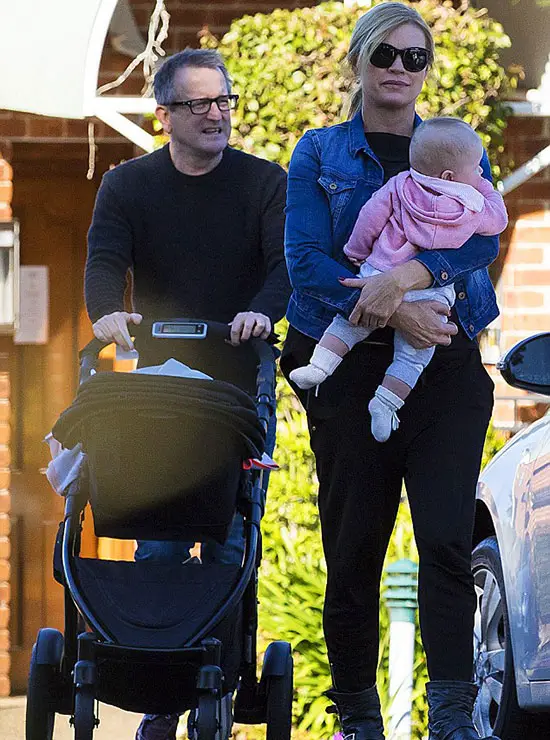 Caption: Sonia Kruger and Craig McPherson with their daughter in North Sydney in 2015.
Source: dailymail.co.uk
Even during those days of struggles, Sonia had all the support she could get from her partner Craig McPherson and the couples are often seen with their baby while one of them is pushing the stroller. Little Maggie baby was also introduced on the Today show and as expected she made everybody do that 'awwww' thing.
Sonia who is currently inseparable with her partner Craig was once a divorcee. Before she and Craig started dating in 2008. She was previously married to English international banker James Davies from 2002 to 2008 until the couple ended their marriage in September of 2008.
Sonia's partner Craig also joins her in this case as he was also a husband to another woman but divorced later and has six children; however, details about his previous married life is not disclosed.
Maybe, this is the reason why the couple has not married and decided to cohabitate. Anything related to their plans on getting married in not revealed.