News
Baseball Pitcher Justin Verlander On Romantic Vacation With His Girlfriend. Engaged Already, When Do They Plan to Get Married?
Picture perfect couple, Justin Verlander and Kate Upton got engaged on May 3, 2016. And that's not it; the couple is planning to get married! The couple was also seen enjoying a vacation in Italy. It looks like a baseball pitcher, Justin Verlander, and supermodel; Kate Upton is taking their relationship to the very next level.
A Romantic Vacation: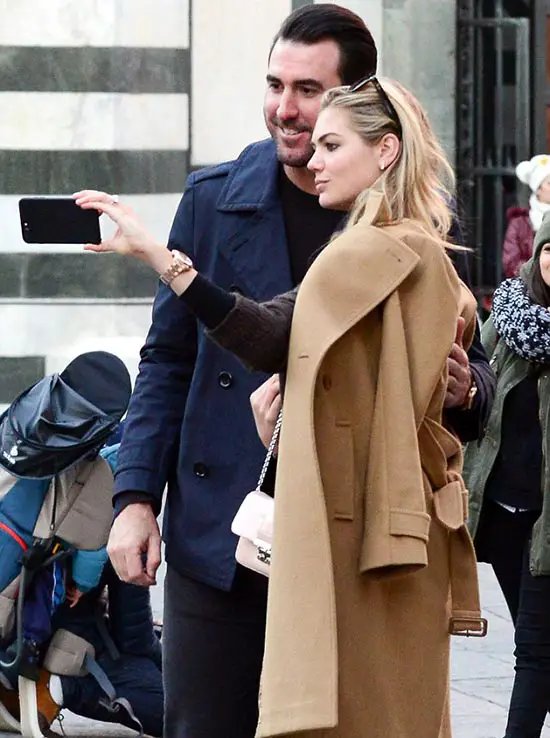 Caption: Justin Verlander and Kate Upton were seen spending a holiday in Italy.
Source: dailymail.co.uk
MLB star Justin Verlander and his wife to be, Kate Upton were spotted walking hand in hand as their relationship looked blissful in love on 13 November 2016. The 24-year-old supermodel was close to her to be husband as they snapped photographs and they toured the beautiful sights of Florence.Kate was seen wearing a long sleeved sweater whereas her to be husband has been observed in all black.
Kate Upton was engaged to her longtime boyfriend, Justin Verlander. She wore the engagement ring on 2016 Met Gala and let the world know about her engagement.She told E! News exclusively on May 3, 2016,
"I'm excited; he asked me right before the season started, so we've been keeping it on the down-low for quite a while,"
"So I'm excited to be able to share it with the world finally!"
From Dating to Engagement:
Kate Upton and Justin Verlander dated for three years before their engagement on May of 2016. Rumors flew around when they were spotted on holiday in St. Thomas in early January 2013 together. Whispers of Sports Illustrated model and 'The Detroit Tigers' star dating in July 2012 were already in the market.
Upton and Verlander were spotted together at a Flyers game. Their romance would be in next level from then on. Moreover, in the span of few months, they were spotted out and about together.
Wedding to be soon?
 Kate Upton has been seen in great shape recently, and the rumors are in that all that is for the wedding with her to be husband, Justin Verlander. Although their date of marriage hasn't been finalized, we can't deny the fact that it is coming soon!
The rumors of their marriage might be the truth as both of the couples were seen searching for the new house in August of 2016. Both of them were spotted searching house in Beverly Hills.
Justin Verlander signed a six-year worth $162,000,000 contract with the Detroit Tigers till 2021 with the annual salary of around $27,000,000.