News
Battling Health Problems! Actress Bijou Phillips Urgently Hospitalized, Reveals She needs Kidney Transplant
It looks like that the Bully actress Bijou Philips took a toll from her degrading health issues just recently as she got hospitalized on Wednesday night following a blood infection. However, blood infection is not the only thing that had her hospitalized because the 36 years old actress has been suffering from kidney disease for a quite a long time and is on the kidney transplant list.
On February 15, she was rushed to the hospital after suffering from a blood infection following the years-long battle with kidney disease. Bijou was secretly dealing with her kidney diseases and was privately undergoing dialysis, a procedure of separating particles in a liquid. A representative of Bijou's husband, Danny Masterson revealed the details,
"Bijou was born with small kidneys and has been quietly dealing with kidney disease for the last five years, including being on the transplant list. To heal her body she has led a stress-free life with a vegan diet which eventually wasn't enough, and she's been privately having weekly dialysis."
Being on the kidney transplant list, Bijous has finally found a match who is optimistic towards the approach and who also happens to be her friend. The representative further gave a fresh update saying,
"She recently found out one of her friends is a match and is optimistic she will be having a transplant soon."
During the interval of her battle, Bijou also welcomed her baby daughter Fianna Francis Masterson. The baby girl recently celebrated her third birthday on th Valentine's Day.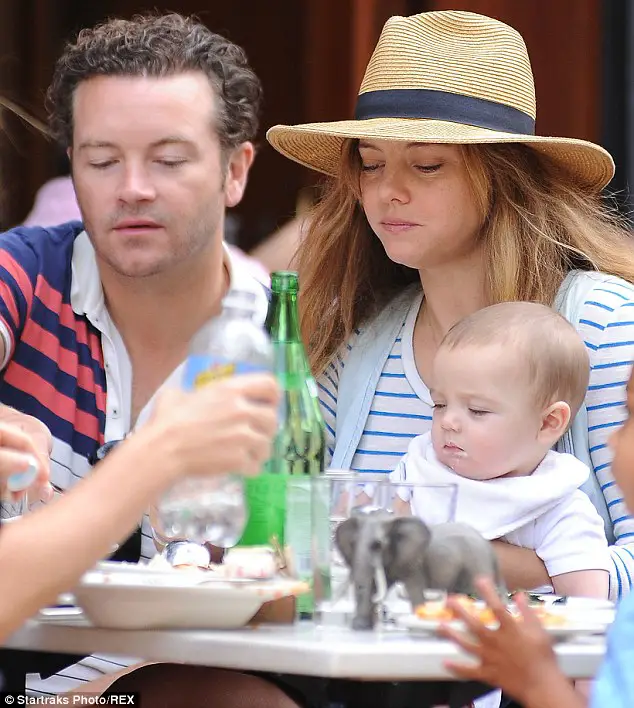 Caption: Bijou Philips with husband Danny Masterson and daughter Fianna Francis Masterson in 2014. 
Source: dailymail.co.uk
The couple dated for eight years before getting engaged in 2009. They further waited a couple of years and finally married in 2011. Their wedding was set in a private castle in Ireland which lasted almost a week.