News
Bethany Meyers, 27, Married With Long-Time Partner Nico Tortorella, 29! Wedding Details
The fitness and lifestyle entrepreneur Bethany Meyers, who is 27 of age, has tied the knot with her longtime partner Nico Tortorella - who is an actor and model, at the oldest church in Manhattan - St. Paul's chapel on 9th March 2018.
Nico made thier wedding announcement via Instagram on 17th March Saturday by uploading a series of pictures from their wedding. Moreover, Nico even revealed that the newly wedded couple wrote regarding their wedding to the LGBTQ publication named "Them." 
just married. for real. @bethanycmeyers and i wrote a very special piece about our wedding and unconditional love exclusively for @them - link in bio. we love you all, no matter what. 399. @andrewmorrisonstudio@victoriamatthews_ #allofitisyou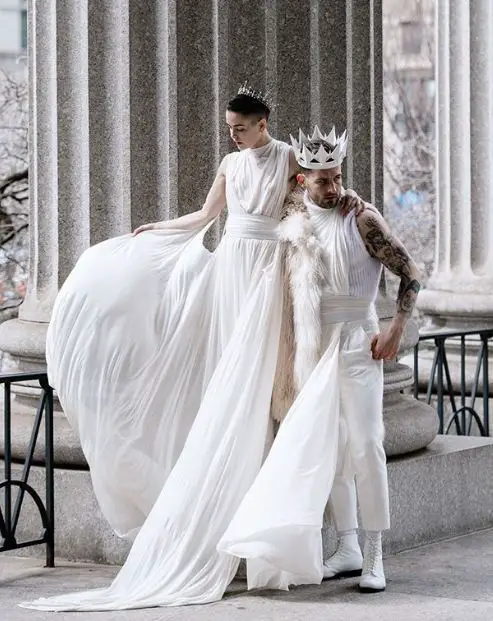 Bethany Meyers and Nico Tortorella get married at a courthouse wedding in NYC on 9th March 2018 (Photo: Nico Tortorella's Instagram)
Bethany shared her joy with her followers by Instagramming couple of pictures of their wedding and also revealed the reason for keeping thier marriage as a secret until now as,
Can't believe I kept my mouth shut for an entire week until we shared this. We waited because we wanted the opportunity to tell our story, in our own words—which we did—
Also, Bethany requested her fans to read the article which would indeed help people to open thier mind towards different types of love.
and I hope you take a moment of your day to read and open your mind to what different types of love can look like. Link to the article found in our bios. Thank you to @them for giving us a platform to tell it on. @victoriamatthews_for her incredible photography skills. @andrewmorrisonstudio for creating these gender fluid looks. And @jkcarrington for ensuring the day ran as smooth as could be.
Well, the androgynous lovebirds, who are in a polyamorous relationship since 2007, had a simple yet intimate wedding the cost '$25 total' of their courthouse ceremony.
As per the description in the article of Them, the ceremony had no guests, no flowers, and no rings but just a 'genderbending ensembles' designed by their pal Andrew Morrison. The only people to attend the ceremony was their photographer Victoria Matthews, and videographer JK Carrington.
Bethany went on to write that Nico, who says to have always "planned on being a husband," is the only one human she would ever marry and share her life as a family.
I realized, if I was ever to marry, the person to fill that role was Nico. There wouldn't be another soul I could share my life with, another human I'd be able to trust with my family. 
Bethany even added that though she had never imagined herself marrying she is more than happy to be married, and their unity would be an inspiration for those who wish for nontraditional relationships.
The couple was engaged for three months before finally vowing to each other as husband and wife.