News
Big Brother's Caleb Reynolds Flashes Wife Being Pregnant Via Twitter
Baby on the way!
Survivor and Big Brother star Caleb Reynolds has announced that he and his beautiful wife Ashley Jay are expecting their first child together. The news first broke when Caleb took over his Twitter to announce this happy news of Ashely getting pregnant.
The tweeted picture also included Ashley's 6-year daughter Kylie who is cradling her mother's belly. He explained the ecstasy in such words.
'Being raised with high morals and standards, like waiting until marriage, Ashley and I feel like we just did everything right. Iit was really exciting to tell my family, especially my mom, who will be a grandma soon!'
He then also spared a thought for those couples who have and had faced issues having children.
'I'm just super stoked to have a child of my own and feel so blessed. When it happens, you just think about all the other moms and dads out there that try for years and years, and again, we're just so blessed. God is so good to us, and we're just praying for a healthy baby,'
Caleb, who is the stepfather of Kylie also told that Kylie too is excited about the arrival of a sibling in her life.
"There's going to be a big age gap, but that'll be great for us since she can help. We know she'll want to hold the baby and feed them the bottle. Toady when we picked her up from school, she told us she told all of her friends and teachers."
The couple got married back on April 30, 2016, and now they are all set to enter a new role in their lives. The two got married in Cadiz, Kentucky with about 150 guests attending the rustic barn-style wedding. Moreover, Caleb's brother Blake performed the ceremony as Blake serves as a pastor in his church.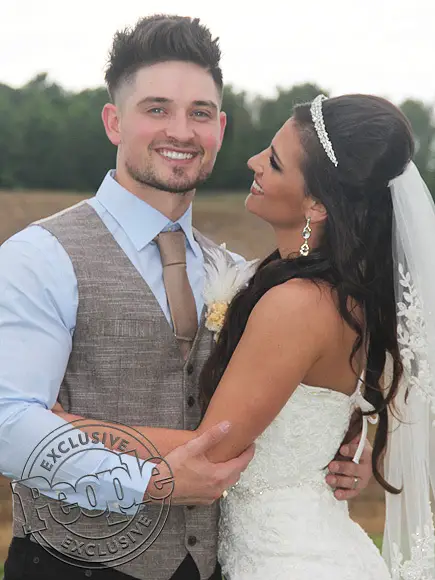 Caption: Caleb Reynolds and Ashley Jay got married on April 30, 2016, in Kentucky.
Photo Credit: people.com
Previously, Reynolds lasted for 90 days on "Big Brother 16" and was medically evacuated from "Survivor: Kaoh Rong" on day 9. During his time on those successful shows, he made some great friends, and those friends also attended the wedding ceremony.
Congratulations to the couple and all the very best for the days ahead!