News
Break Up? No Chance! Hayden Panettiere And Wladimir Klitschko Snuggle During Rare Appearance in Miami!
Hayden Panettiere and her boxer fiancé Wladimir Klitschko stamped the Tuesday night a night out as she and her beau stepped out for the first time after the pesky breakup rumor that went viral during this year's summer. The couple looked calmly happy at they stepped out in Miami and attended the Faena Art Dome.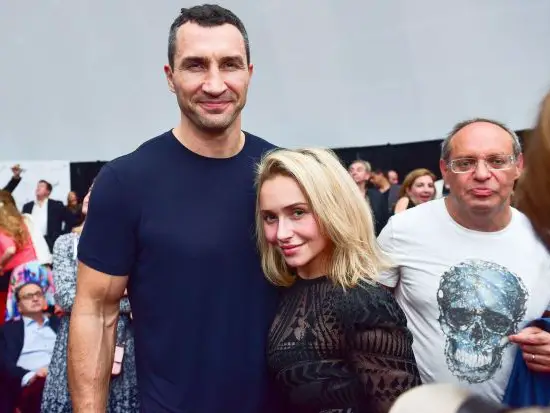 Caption: Hayden and Wladimir attending the Faena Art Dome on November 29, 2016
Photo Credit: pinterest.com
Hayden Panettiere, 27, came out with 40 years old boxer fiancé Wladimir Klitschko at the Daily Front Row followed by their visit to Faena's Art Basel bash. Their recent public appearance is the first after her breakup rumor was out by tabloids when they saw her in New York while she was struggling and seeking help for postpartum depression, with no engagement ring on her finger.
The sighting soon turned into a possible breakup speculation. However, amid of all the speculation and rumors of her split, Hayden cleared out the rumor with a Twitter picture where she could be seen cuddling with her fiancé Wladimir and their 23 months old daughter Kaya Evdokia Klitschko born on December 9, 2014. In the Twitter post, Hayden cleared that a missing ring did not mean the end of a relationship and explained that she was blessed to have a beautiful family.
The couple did split amicably once in 2011, but that was before their engagement in October of 2013 which Hayden revealed about while holding a snake around her neck on the Live Kelly & Michael show.
Caption: Hayden Panettiere is disclosing about her engagement
Months after she announced her engagement, Hayden gave birth of their daughter. However, she was quite most of the time during her pregnancy and appeared with a belly bump in an Emmy award in August.
Hayden and Wladimir met for the first time in 2009 at a book party.
She recently posted a picture together with her beau as they made their way to Jerusalem. Both Hayden and Wladimir have not revealed any information about getting married.