News
Broken Hearts! Actress Bella Thorne Split with her Singer Boyfriend Charlie Puth!
Charlie Puth called off his romance with actress Bella Thorne taking the news to the Twitter on Wednesday.
Just some days after the couple was spotted together in iHeartRadio Jingle Ball 2016, Charlie Puth called off their relation being alert about the fact she may be with her ex-boyfriend Tyler Posey at the very start of their affair.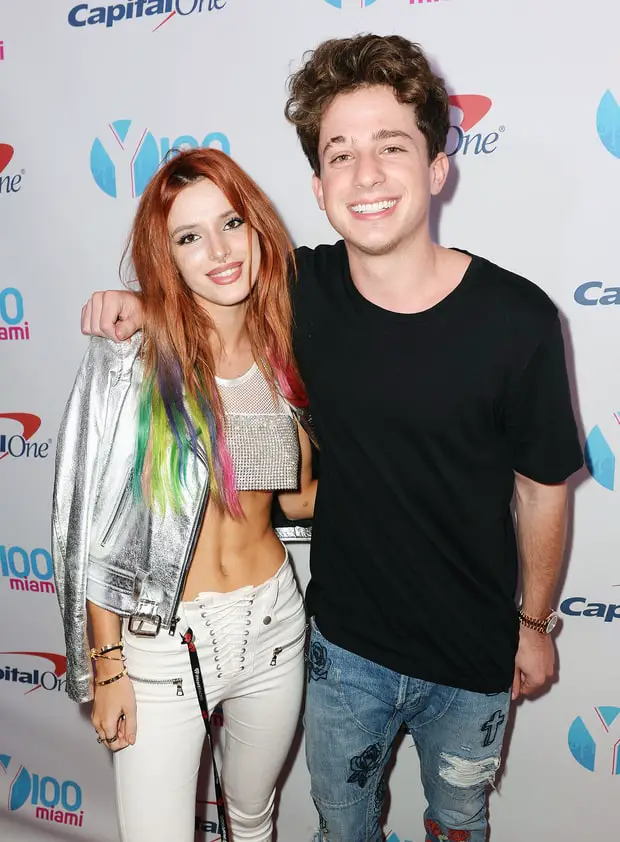 Caption: Throne and Puth were first clicked together in Y100's Jungle Ball 2016.
Photo Credit: usmagazine.com
The romance of the Grammy nominee and the Duff actress was heated up after they were spotted together on the Miami beach in a hot pose.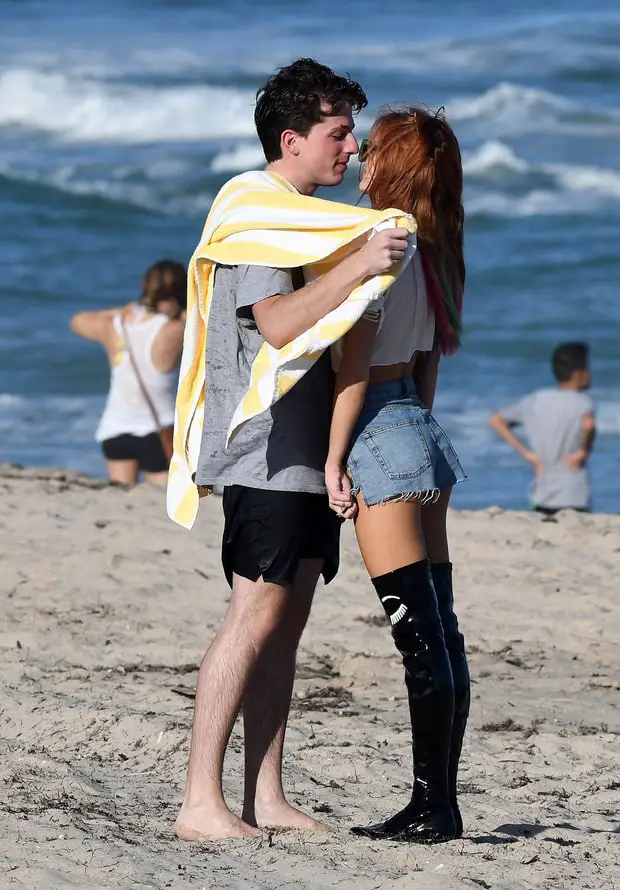 Caption: Steaming moment between Throne and Puth. (2016).
Photo Credit: usmagazine.com
But the new blossom of their love shortlived.
Soon after this tweet of the Disney star "Taking back to memory lane" written beside the photo, Charlie posted a series of tweets. He posted,
I messed a lot of things up, I get it if we can't be friends....you know who you are.

— Charlie Puth (@charlieputh) December 22, 2016
But if you could just come to your senses...you know who you are.

— Charlie Puth (@charlieputh) December 22, 2016
Though 'We Don't Talk Anymore' singer didn't mention the Duff actress' name, but she was allegedly related to his recent tweets
The 19-year-old actress declared herself single on Twitter soon after the release of her interview in which she talked about her rumored relationship with Tyler Posey.
Caption: After a short-lived romance, the love ended between Bella Throne and Charlie Puth (2016). 
In that particular interview, she not only spoke about her relation with Posey but also mentioned the role of paparazzi and social media in her life. She expressed,
'So when you're in a relationship with someone who doesn't understand social media, it's a really big f**king challenge. And it is really hard to work through because they don't understand that this is my life."
She continued about paparazzi and social media,
"So if you're not willing to be down with that, I can't change that about me. You think I want paparazzi following my every move? You think I want people trashing me on the Internet all the time, talking s**t about me? No! But that is my life, and if you're dating me, you need to know that you have to take that on in a sense, too. And it's unfortunate but it's something you have to give up when dating me."
 
Opening up about her relationship with Tyler she said,
"For instance, dating Tyler, when we first started dating, paparazzi got a photo of us kissing outside and it sucked that people got that photo because we really didn't want it out at that time. We were obviously dating and hanging out, but it just wasn't necessary to put that in front of everyone's face, you know? That one sucked.'
Charlie responded to that on his Twitter,
It seems that Charlie was unclear about the relationship between Posey and Thorne. After knowing the relationship status of those two, Charlie showed his sympathy for Posey. Charlie shared regarding the split as,
No one should have their heart messed with like this, and I'm not going to be in the middle of it.

— Charlie Puth (@charlieputh) December 22, 2016
Another tweet followed where he mentioned his sympathy for Posey. His tweet says,
I don't know Tyler personally, but I know he shouldn't be treated this way.

— Charlie Puth (@charlieputh) December 22, 2016
It seems like Charlie has moved on pretty fast.
I want nothing but peace for all, I'm just removing myself from this.

— Charlie Puth (@charlieputh) December 22, 2016
In response to the tweet of "See you again" singer, the actress wrote.
Ty and I have been broken up for like over two weeks and charlie and I ARENT DATING we are friends. That article was written forever ago.

— bella thorne (@bellathorne) December 22, 2016
Although it seems too complicated at the moment, hope everything sorts out between Thorne and Puth.