News
Brought to Justice! Entrepreneur Billy McFarland Arrested After Charged with Wire Fraud
The man who is behind the disaster Fyre Festival gets arrested!
The Federal agents arrested Billy McFarland, an entrepreneur who is also the co-founder of the "fiasco" Fyre Festival, on Friday, 30th June at his own Manhattan home for the charge of federal wire fraud.
Is Billy McFarland Seriously In Danger?
The music event of Fyre Festival had to take place earlier this year, but it only happened in April in the Bahamas. And it was Billy McFarland, who took the responsibility to make the event a successful one in connection with his company, Fyre Media.
But, the event failed bitterly and left people with distress. The people who bought the expensive tickets of the event met with FEMA tents, cheese sandwiches, and sand fleas, but didn't find any luxury things.
They even went to Instagram and Twitter to evince their anger flaunting the items they received as a part of the grand service.
The acting Manhattan U.S. Attorney Jon Kim made a statement as:
"William McFarland promised a 'life changing' music festival but in actuality delivered a disaster."
He also added further in his statement and said:
"McFarland allegedly presented fake documents to induce investors to put over a million dollars into his company and the fiasco called the Fyre Festival."
The findings also revealed that he suggested "tens of millions of dollars" in bookings, which were documented below $60,000 and exaggerated his net worth to be $2.56 million in stock holdings. However, his net worth is just close to $1,500.
Consequently, after the FBI investigation, he got charged with wire fraud and an arrest warrant got issued to jail the culprit. Then, the federal agents took him into custody late Friday and thus he had to spend the night at the Metropolitan Detention Centre in Brooklyn.
Billy, with a charge that could jail him for twenty years of his life, appeared before U.S. Magistrate Judge Kevin Fox on Saturday. The court made a decision to free the culprit with a bail of $300,000 with some strict conditions.
The bond is to be secured by $50,000 in cash or personal property and be co-signed by two financially responsible persons. Additionally, he cannot make long distance travels, as he gets limited within fixed area and he also has to submit to drug testing.
Well, keeping the limited visits in concern, he moved from his penthouse to parents home in Jersey, where he will be living with his mom.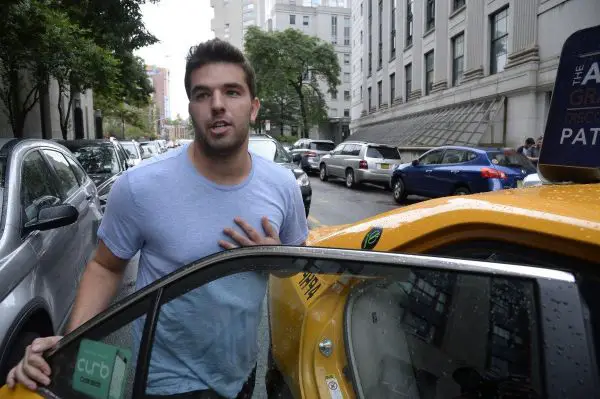 Caption: Billy leaving in a taxi after the hearing at Manhattan Federal Court on Saturday.
Photo Credit: nydailynews.com
He is no more living in a penthouse worth $21,750-a-month and no more driving a $110,000 Maserati, but just accompanying his mom.
Stay with us for the latest updates on the story!