News
Captain Darren Clarke Prepared For The Golf Battle With His Team, Eyes on The Prize!
Northern Irish Darren Clarke has revealed that he is highly motivated and has his sights on men's golf competition between best teams from Europe and the United States, Ryder Cup.
Determined to win!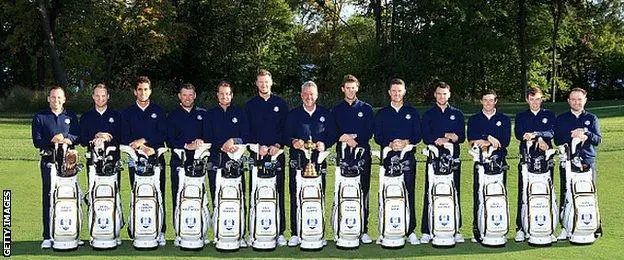 Caption: Dareen Clarke's team at Ryder Cup 2016
Source: bbc.co.uk
No wonder he is concerned, since Dareen Clarke is captain of the team. Former US Open champion Miller who is also an NBC Sports analyst said to his viewers during Saturday's coverage of the Tour Championship that there are six rookies in the team which hurts their chances and losing Ryder hero Ian Poulter through injury could be a decisive factor. Miller said on NBC.
"I do believe the Euros have got, at least on paper, the worst team they've had in many years,"
He further adds;
"I think with all those rookies ... when you lose Poulter, it's like tearing your heart out. I think this is the year not only could the US win, they could win by like five points."
But the captain is all set and ready to go in Ryder Cup and did hit back at Johnny Miller's criticism of his European Ryder Cup team as on the same statement he said;
"I don't need to respond to that. I think I've got full confidence in our team."
The guys have all seen everything that's been said. But regarding that, we have the Masters champion, we have The Open champion, we have the Olympic Champion, and we have the FedEx Champion. You combine that with all the experience and with all the rest of the team and the way those guys have played,
Despite the hostility from outside the camp, Clarke said he was enjoying his experience and responsibility as captain of Europe, and he described as "a very relaxed evening."
We had everybody from Team Europe, and that being the physios, the backroom staff, the coaches, everybody was in our team room last night for maybe 30, 45 minutes. Then we all had a little bit of a chat to everybody, a little bit of conversation and addressed everybody and welcomed them all here."
The players such as Thomas Pieters and Lee Westwood had nothing but praise for team's captain Darren Clarke. Ryder Cup is set to start from September 30 and scheduled until October 2. We'll certainly figure out who is the best team?