News
Carey Hart's Wife Pink Shoots Down Their Split Rumors With Comic Instagram Post!
Carey Harts' wife Pink who we all know is quick tempered, always with quick comebacks, destroys the rumor spread towards the allegation made towards Cary and Pink splitting up. Instead, she has a loud roar of a comment on Instagram and throughout social media.
Carey, a retired BMX racer, on the other hand, had not much to say on the matter. Vigorous and silent type as his loud and glorious wife, pink, moves back the lies and haters.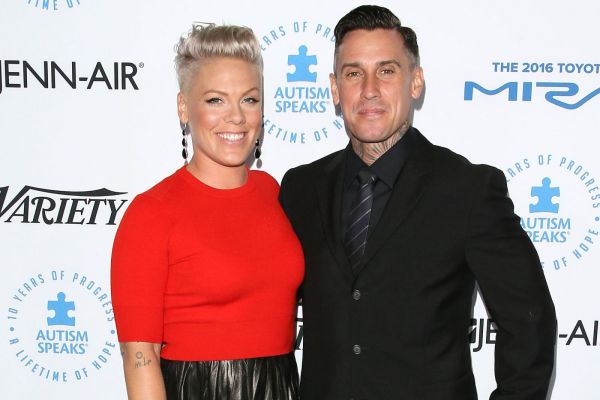 Caption: Pink and Carey both smiling together, Dec 6, 2016.
Photo credit: people.com
Pink is the real talker here, as heroine slays down the incorrect anonymous sourced assumptions that her forty- one-year-old husband, Carey Hart, and herself, thirty-seven are splitting up. In an article in the Australian tabloid New Idea, headling:
"Pregnant Pink Marriage Split"
 Plus showed quoting Pink on the cover
"I'll Raise My Babies Alone."
 Pink responded the best way possible.
Never having said statements, Pink, outraged by the false implications made towards her and husband Carey, she immediately posted back on Instagram on the 6th of December:
 "Apparently @hartluck I HAVE HAD IT!!!!!!!" she jokingly captioned the pic. "So you better fix this sh**, whatever it is, cause it's obviously BAD. Just shi**y! And before you leave can you please teach me how to set the alarm? I can't wait to take over your closet!!!!!! #moreclothes #ivehaditwiththissh**."
She is not the only one disapproving of this. Faithful fans and correctional type social media debunked the rumors. The singer has her media backing her up and being supportive through her second pregnancy.
The two have broken up before back in February 2008; she had said on the Ellen Degenerous Show that both had a particular way of dealing their breakups, saying;
"We take breaks. We've had two breaks. The first one was about a year, and the second one was 11 months," 
Around the same time she jokingly added; 
"I feel like I have two kids right now,"
But through marriage counseling, they both reunited in February 2010. Soon after, they announced their first baby together in the second of June 2011, and now expecting a second child.
She on her statement to GMA on December 7, 2016, said;
"I want to say that Carey Hart's an awesome husband and a really good dad, but he's also like a second child."
Considering they have broken up before, their divorce rumors were just a related downward spiral of impending cliché celebrity relationships. The two, however, are not at all affected by the news and strongly concentrated on their upcoming baby.