News
She's Pregnant! Carly Wadell Announces Pregnancy with Husband Evan Bass A Couple of Months After Their Wedding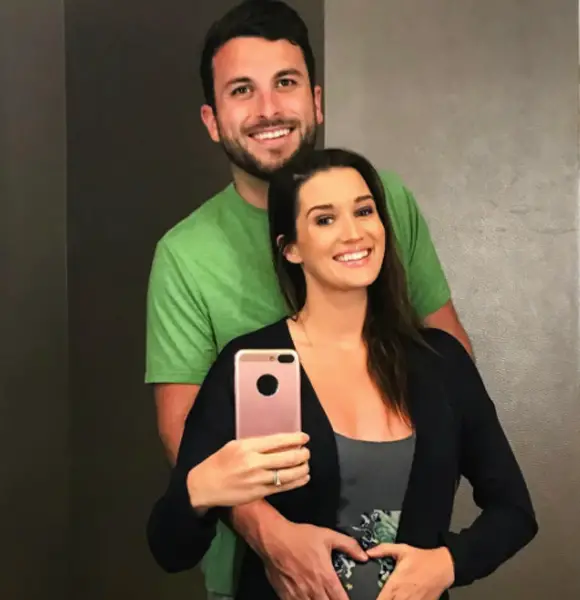 Bachelor in Paradise's Carly Wadell and her husband Evan Bass are all set to become new parents, as Carly is pregnant with their first child.
In an exclusive statement to PEOPLE, the newly married couple revealed-
We are so happy to be expanding our family as we welcome Baby Bass in 2018.
The mother-to-be Carly also announced the exciting news via Instagram. She shared the news with the caption-
SECRET IS OUT GUYS!!!! Evan and I are SO EXCITED to announce we are HAVING A BABY!!! What a beautiful, wonderful, wild year it has been and the adventure continues Feb 2018! ?????????? (also Evans face here is hilarious and wonderful)
The pair, who first met on the set of Bachelor in Paradise in 2016, got married in June this year.  They exchanged vows in a beach wedding held in Puerta Vallarta, Mexico.
The guests who witnessed the wedding included BiP" alums Jade Roper and Tanner Tolbert.
Caption: Carly Wadell and her fiancé Evan Bass got married in June 2017, in Puerta Vallarta, Mexico.
 Talking about the wedding to PEOPLE, the newly married couple said-
We had a dream wedding on Saturday. It was truly the perfect day with friends and family in Mexico. There was no better way to celebrate the start of our forever journey together. The setting, in a garden overlooking the ocean, created a stunning visual that I don't think anyone will forget.
Their joint statement about their wedding continued-
Evan's children delivered heartfelt and hysterical speeches that had everyone laughing and crying simultaneously. The love from Bachelor Nation has been overwhelming and we are so grateful to all who helped make this day amazing.
The couple got engaged in summer of 2016 and earlier this year in April; the couple talked about their forthcoming marriage with E! News. The mother-to-be Carly said-
"I think that relationship wise, we're definitely more in love than we ever were before. I think we fall more for each other every day which is fun.It was always good, [but] it's just that as we got to know each other better and better. We fell for each other even harder. We've never had a bad spell. It's always been consistently good."
She explained that her boyfriend-turned-fiancé Evan is very nonjudgmental, who has accepted her despite many flaws.
The baby which will be born in Feb. next year will be the first child for Carly, whereas it will be the fourth for Evan, as he already has three sons; Nathan Bass (age 15), Liam Bass (age 11) and Ensley Bass (age 8) with his ex-wife Marie Bass.
Carly Wadell's Wiki:
Born on October 11, 1985, Carly Wasell (age 31) is a reality star. She first gained popularity as a contestant on the 2015 season of The Bachelor. However, she did not end up winning the heart of Bachelor star Chris Soules.
Like other contestants of the show, she is also a public figure, specifically a cruise ship singer. Carly has attended the University of Oklahoma for Musical Theatre.