News
Casey Reinhardt Is Pregnant! All Set To Welcome Second Child With Husband
Baby's news from another Laguna Beach star after Lauren Conrad, and this time it's from the owner of Casey's Cupcakes, Casey Reinhardt.
Casey, who got married to Sean Brown a year ago, took to her official Instagram account on Tuesday afternoon to announce the big news of expecting a second child.
Through the same post, she revealed that she is 15 weeks pregnant with a baby, flaunting the news to add a new member to the family in January, the next year.
Well, the immediate reaction to the post came from the Orange County based Bravolebrity, Lydia McLaughlin of Real Housewives, who shared her words of congratulations for the couple. She commented "Yay! Congrats you guys," adding a sweet kiss emoji.
Soon, another Bravolebrity of RHOC, Kara Keough Bosworth offered up her congratulations.
The couple is already parenting their first child, Kensington Kelly Brown and is now more than excited to welcome their second one. Kensington is about to turn one on 16th of this month.
Her proud mother flaunted the cute picture of her daughter to express her happiness.
Back To The Time When Casey Got Married!
The cupcake queen, Casey Reinhardt married her longtime beau, Sean Brown in a romantic sunset wedding at an upscale Newport Beach resort overlooking the Pacific Ocean on February 21, 2016.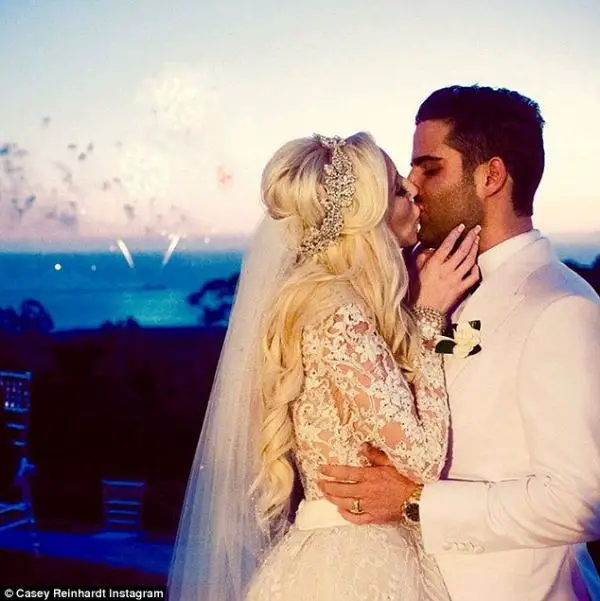 Caption: Casey and Brown, sharing a beautiful kiss at their wedding in February last year.
Photo Credit: dailymail.co.uk
The newly wedded bride shared her feeling saying:
"Last night was the most magical, incredible, most emotional night of my life!!!' 
She also gushed about her excitement and happiness of getting to spend her life with the amazing man she loves,
"I became Mrs. Casey Beau Brown and I get to spend the rest of my life with the most amazing man who ever walked this earth."
 She further added:
"I'm so happy, so in love, and so overwhelmed with emotion just thinking about how beautiful the rest of our lives are going to be together."
While the couple got blessed with their daughter the same year in August, they now have another chance to double their happiness.
Casey Reinhardt is currently engaged in her venture of a sweet shop, which was set up in 2009. After a stint for Casey on MTV's Laguna Beach and The Hills, she has managed to build a cupcake empire called Casey's Cupcakes.
The brand has two locations in Southern California now. Moreover, it managed to appear on an episode of Food Network's Cupcake Wars and even win the title.
We like to congratulate the couple for their upcoming child!
Stay with us for emerging updates on Casey Reinhardt