News
Chelsea Houska Is Pregnant Again! Expecting Baby Girl With Husband
The Teen Mom 2 star, Chelsea Houska is expecting her second bundle of joy with her husband, Cole DeBoer.
The lovebird announced this good news through their Instagram accounts on Thursday that they were expecting their second child together. Chelsea shared a framed image of an ultrasound scan on her Instagram with a caption that read,
"GUESS WHAT! A sweet baby girl will be joining the DeBoer clan in a few short months! We could not be more excited! "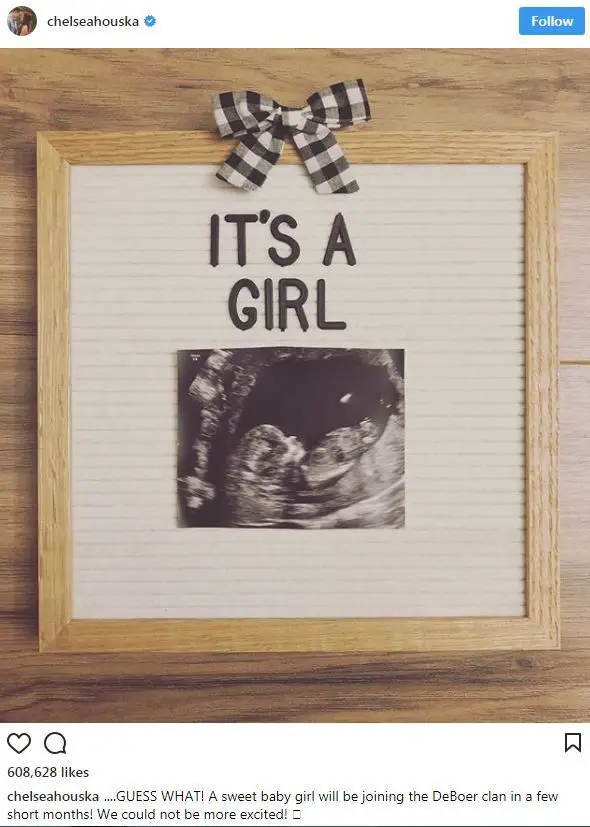 (Chelsea Houska's Instagram)
Chelsea's husband, Cole also shared the same picture on his Instagram, writing, "This proud dad is getting a new Bow, and it's nailed my heart ?@chelseahouska."
The couple welcomed their first child, Watson Cole back in January 2017. Though this will be the second child for Cole, it will be Chelsea's third time becoming a mother, as she already has an 8-year-old daughter, Aubree Lind from a previous relationship with ex-boyfriend, Adam Lind.
After the couple welcomed their first son Watson, Chelsea had opened about their having "baby fever" during an episode of Teen Mom 2 in August 2017.
"We have baby fever already. I just want so many baby Coles. I think it'd just be fun to have so many babies closer together."
Well, the MTV couple made it no secret that, they would soon be expanding their family. But they had agreed to wait for another baby until their wedding reception. And well they stayed true to their words, and now a little angel is on the way!
This happy news came more than five months after the couple celebrated their second wedding ceremony. Chelsea and Cole celebrated their marriage with an official reception held one year after initially getting married back in October 2016.
Though the couple officially became husband and wife two years ago, they had paused on hosting their celebratory reception until their son Watson Cole DoBoer was born.
Meanwhile, Cole seems very happy regarding the inclusion of a new member, as he opened up about his wife's pregnancy with the MTV News, stating
"I'm ecstatic to have another princess under our roof. The men in this household are standing their ground even though we are now outnumbered."
Chelsea too revealed to MTV News that, her husband Coe is "very excited" and "talks to my belly every night."