News
Chloe Green & "Hot Felon" Boyfriend Welcomed First Baby Together, Son Jayden!
Chloe Green is blessed with her first-born!
Chloe Green and her model boyfriend Jeremy Meeks welcomed a new member in their family on 29 May 2018.
Jeremy took to his Instagram to share the happy news with his fans and followers. He explained in the post that Chloe had given birth to a healthy baby boy.
The couple has named the kid, Jayden Meeks-Green. The pair had earlier mentioned of having the delivery on the yacht while roaming the sea. Further, Jeremy urged the fans to let them keep some privacy in their happy times.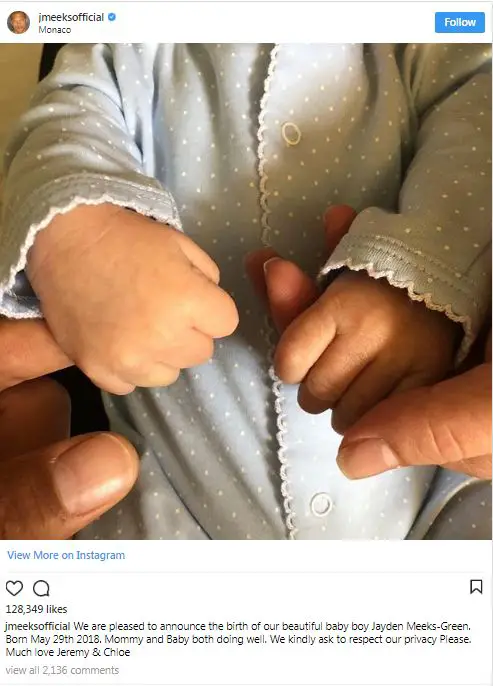 Chloe Green gives birth to a baby boy Jayden Meeks-Green on 29 May 2018 (Photo: Jeremy Meeks' Instagram)
Back in March 2018, US Weekly had confirmed the pregnancy of Chloe.
Jayden is the first child of Chloe, but Jeremy has an eight-year-old son named Jeremy Jr. from his previous marriage to Mellisa Meeks.
The couple commenced their dating in June 2017, while Jeremy was still married to Mellisa. Chloe and Jeremy were first captured kissing and cuddling by a pool in a hotel in Los Angeles. Later, they were spotted holding hands while leaving the hotel. In a 2017 interview with The Sun, Jeremy's ex-wife Mellisa had accused him of adultery. She further mentioned that Chloe had known Jeremy to be a married man when they first started dating. Jeremy filed for divorce in October 2017, but the legal procedures have not been settled.
Jeremy, the World's Hottest Felon, was convicted of illegal gun possession and resisting arrest on 18 June 2014. He was sentenced to serve prison time at the Mendota Federal Correctional Institution and was later released after nearly two years of captivity on 8 March 2016. Jeremy currently works as a model and is famous for his 2014 mugshot. Further, he had previously served a nine-year sentence in 2002 for grand theft.
Chloe, aged 27, is the daughter of British billionaire businessman, Sir Philip Green. Her father owns a chain of retailers including Topshop and Topman; and has a net worth of $2.7 billion which Chloe and her brother Brandon are set to inherit. Famous for her lavish lifestyle. Chloe has even launched her line of shoes named CJG by Chloe Green in 2012. 
Chloe was previously in a relationship with singer Marc Anthony who is 23 years older in age than her. The couple started dating in 2013 but later broke citing differences.