News
Chris Cornell Dies At Age 52; Survived By Wife And Family
Chris Cornell Dies At Age 52; Survived By Wife And Family Chris Cornell dies at 52. The Soundgarden and Audioslave singer suffers a 'sudden and unexpected' death just hours after Soundgarden's  Detroit tour performance. His representative confirmed the news of his passing and also his wife and family were left in utter shock.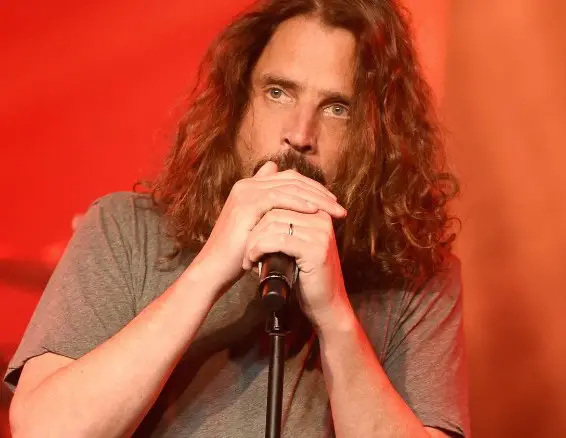 Rest In Peace Legend!
Chris Cornell dies at 52. The Soundgarden and Audioslave singer suffered a 'sudden and unexpected' death just hours after Soundgarden's  Detroit tour performance. 
He had just finished a full 20-song Soundgarden gig at the city's Fox Theatre venue. His representative Brian Bumbery confirmed the news of Chris being dead and also his wife and family were left in utter shock.
The tragic incident took place on Wednesday. Bumbery also added that Cornell's family have asked for some privacy. But in a shocking turn of events, it has now been revealed that the singer killed himself and committed suicide.
Also, reports are there that the singer made a phone call to wife before suicide and admitted to having taken too much anxiety pills and repeated
"I am just tired"
Following that conversation, Vicky called Kirsten to check on Chris. Despite possessing the key to Cornell's room, Kirsten was not able to open the door because of it being latched. Kirsten then called the hotel security, and despite security refusing to assist, Kirsten then kicked open Chris's hotel door. 
And after inspecting the bathroom, Kirsten found Chris laying on the bathroom floor with blood running down his mouth with a red exercise band around his neck.
It is so sad to know that the man who made people know how to be strong through his music had such a tragic end to his life.
He is now survived by his second wife, publicist Vicky Karayiannis and by his three children.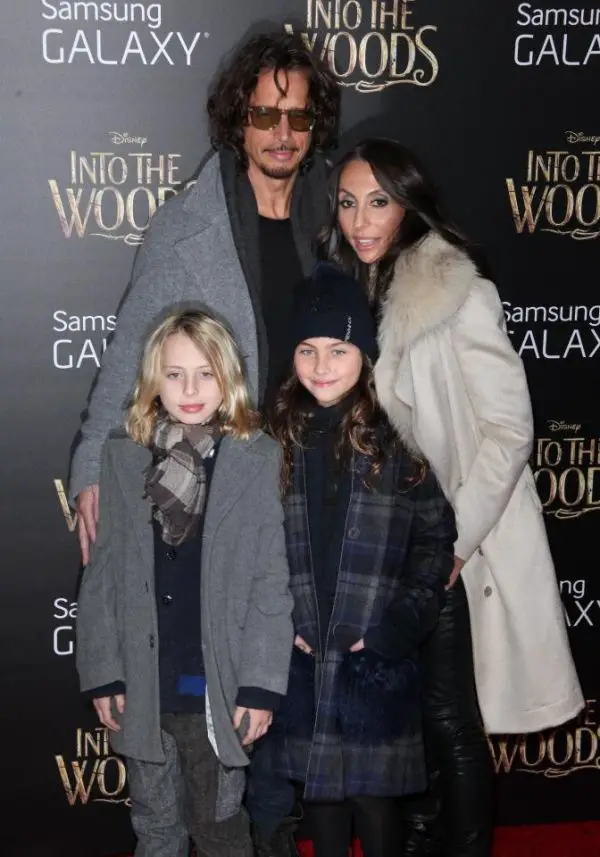 Caption: Chris Cornell with his wife Vicky Karayiannis and his son Toni and daughter Lillian Jean Cornell.
Photo Credit: thesun.co.uk
Chris Cornell was best known for fronting the Seattle grunge band "Soundgarden" from 1984 to 1997 and returned again for a second stint from 2010 to the present day. The band's most successful album namely1994's 'Superunknown' ranked at Number One in the US and sold more than nine million copies worldwide.
Cornell also fronted legendary band Audioslave, with the member of Rage Against The Machine, and released three albums spanning between 2002 and 2006. He also released four solo albums with the most recent one, 'Higher Truth,' coming out in 2015. Earlier this year he teamed up with "Sting" for a charity gig.and performed a number of Soundgarden and The Police songs.
Furthermore, he was all set to perform with Temple of the Dog next week. Temple of a Dog is a band that only existed for like10 days a quarter century ago. The band comprised of members of Soundgarden and Pearl Jam and were booked to headline the Paramount Theater in Seattle on the 20th and 21st of November.
Not only that, he had some other gigs lined up and the fans were all so excited about the tour.
Also, his passing has led to the world paying touching tributes to the man.
Chris Cornell: State of Rock Music and Drug Abuse.
Chris has also had his issues with drugs and drugs abuse and back in an interview in 2012, he opened up about his own experiences with drug abuse.
Having faced his own demons and gone through the phase, he said,
"The thing is, when you pick up the pipe for the 1st time, you don't know that that's your fate,"

"The moment isn't that dramatic. And then that was it – I didn't want to care anymore."
He also noted how the tales of 70's rock icons seemed so much less depressing than of following generations. He elaborated his case in such words,
"Those bands somehow had the ability to be completely f—ed up all the time and still function. They could play an amazing guitar solo even though they could barely walk,"
Cornell also added,
"The 80′s killed that – everyone was doing coke. If you see interviews w/ some of the stars of MTV's early years, those guys look worked over. Duran Duran? They went through hell too."
The world surely has lost a legend.
Caption: Chris Cornell's last performance before his sad and tragic demise.
Video Credit: mirror.co.uk
Thoughts and prayers to the family of Chris Cornell.