News
Christine Taylor And Husband Ben Stiller Announce Their Split! Both Vow To Remain Friends
The gorgeous and talented Christine Taylor has announced her split with her husband of seventeen years, Ben Stiller, and has revealed that they will remain friends even after separation.The soon-to-be-divorced couple confirmed their separation in a joint statement to TODAY. Both of them said in a joint statement:
"With tremendous love and respect for each other, and the 18 years we spent together as a couple, we have made the decision to separate."
They also stated that they will continue to be friends and will parent their children together even after being separated as a real life lovers.
"Our priority will continue to be raising our children as devoted parents and the closest of friends. We kindly ask that the media respect our privacy at this time."
Forty-five-years-old Christine and fifty-one-years-old Ben are parents to their fifteen-year-old daughter Ella Oliva Stiller and eleven-years-old-son Quinlin Dempsey Stiller.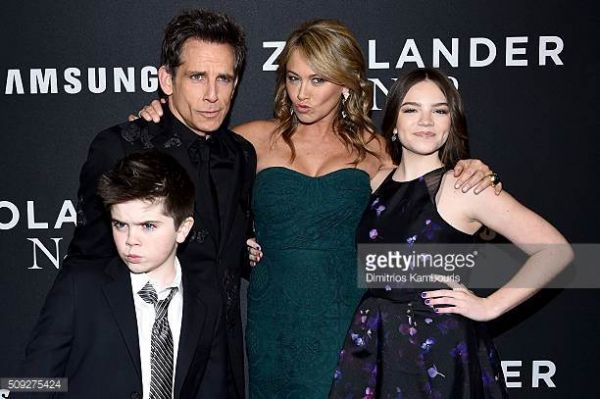 Caption: Christine Taylor with her husband Ben Stiller, daughter Ella and son Quinlin at the 'Zoolander 2' World Premiere on February 9, 2016.
Photo credit: gettyimages.com
 Christine and Ben first met on the set of "Heat Vision and Jack," a never-aired TV pilot and got married in the year 2000. After exchanging vows in 2000, the pair had a blissful married life.
In an interview with Parade in December 2013, Stiller talked about his relationship with his wife. He said-
"[Our] relationship was a gradual thing that happened over a quick period of time, maybe seven or eight months. We just started hanging out with each other and it developed into, 'Wow, this feels great. I really like this person. I think I love this person. I really do – I love this person.' It hit me out of the blue."
It's sad how their relationship has turned sour as time passed. Christine and her estranged husband Bill has appeared together in the films like Tropic Thunder (2008), Dodgeball: A True Underdog Story (2004), and Zoolander (2001).
Stay with us for further updates on the emerging issues of Christine Taylor and Ben Stiller!