News
Courtney Stodden Reveals her Bisexuality after Split with her Husband Doug Hutchison, Announces She's Open to Dating Girls!
Having just recently split with her former husband actor Doug Hutchison from the six years long marriage, Courtney Stodden disclosed her sexuality as bisexual and openly invites girls to date her. On an interview with foxnews.com Courtney published about looking for a potential suitor and confronted about dating women for fun purpose. She said:
"I think I just want to have fun. I like guys who are funny and you know, successful and girls too! You know, I mean, I'm bi so why not some girls too?"
On a live interview with Fox channel through a question-answer round, Courtney revealed about her bisexuality.
Caption: Courtney invites girls and men to date her (2017). 
 Right after the separation from her husband, Courtney was spotted with an unidentified male pal at the LAX, Terminal.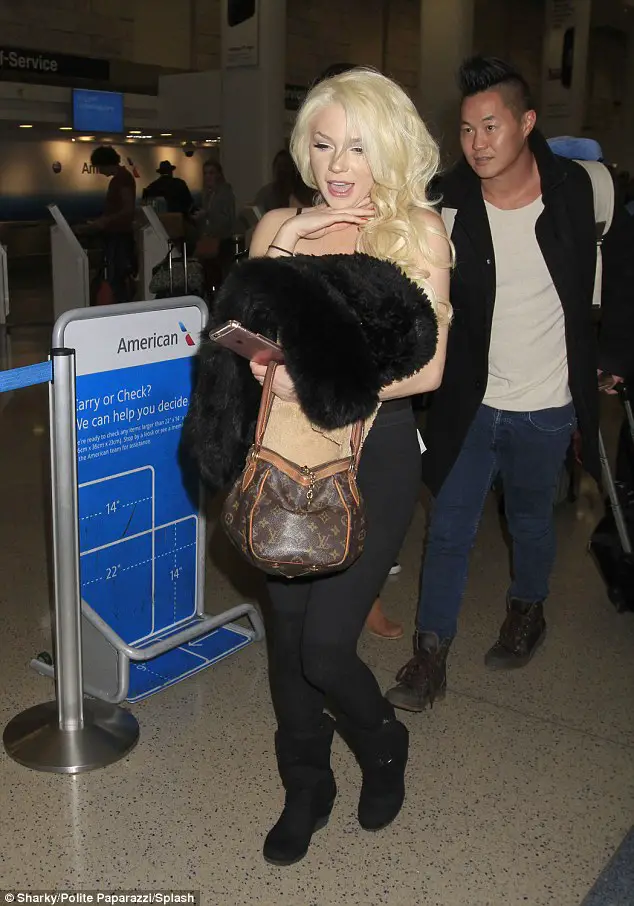 Caption: Unexplained man hopping behind Courtney in the LAX Terminal (2017). 
Photo Credit: dailymail.co.uk
Further on the split with her husband, Courtney confronted about being the separation raw and difficult to overcome to the source. She said:
"I think both of us saw the warning signs for quite some time. Technically we've been split for two-and-a-half to three months now. It's recent, and the emotions are still really raw."
She further added,
"I'm doing okay. The best that I think I can be doing right now. I think 2017 is going to be a much better year for me than 2016. 2016 was like really bad like it was awful all around."
In the year 2011, Courtney had married at the age of 16 while Dough was 56 years old. The married survived nearly for around six years and got over in the late months of 2016 while the couple had faced a breakage immediately after three years of the wedding but again had renewed their vows in 2014. From the said marriage Courtney had expected child but had faced a miscarriage which compelled her to shave her head to mourn the loss of her baby.