News
Baby Bliss! Dana Isaiah & Wife Jordin Sparks Welcomes First Baby 'DJ'
A baby "boy" for Dana Isaiah and Wife Jordin Sparks!
25-year Dana Isaiah and the American Idol alum, Jordin Sparks welcomed their first child, a son named Dana Isaiah Thomas Jr., on 2 May 2018 at 9:04 p.m. at the Natural Birth Center & Women's Wellness, Los Angeles.
The baby was born healthy, who weighed 8 lbs, 4.5 oz. and measured 21(1/2) inches.
Jordin, who has now begun her journey as a mother, shared the glimpse of their newborn baby via Instagram on 6 May 2018, writing,
"He's here & we couldn't be more in love!!! Go DJ!"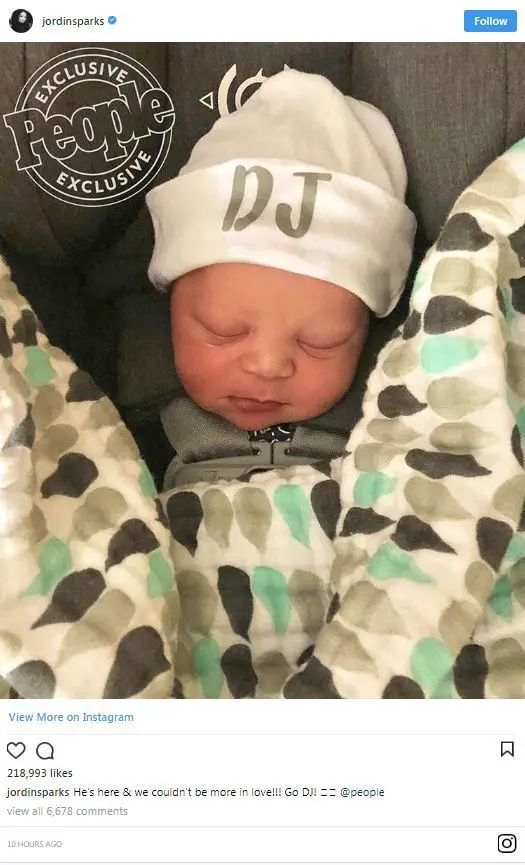 Jordin Sparks and Dana Isaiah's son (Photo: Jordin Sparks' Instagram)
The new-mother shared the birthing process as "miraculously beautiful" with the PEOPLE on May 2018. She said:
"Dana caught him with my midwife, Simona, and when he handed him to me, I was absolutely overwhelmed with joy. He was and is everything we imagined."
Additionally, she expressed gratitude to her supporter saying,
"I'm feeling pretty good! I am so grateful for my husband and amazing team at the Natural Birthing Center. I don't think I would be feeling this great without them!"
Not only the baby mama, but the baby father also shared the happiest news on the social media writing,
"If you only knew how much daddy loves you!"
Jordin expressed her happiness after her family turned to three by expressing,
"I'm extremely grateful because life is nuts. This is the best part so far because I have [Dana] and I have this little one and I have a new family. I'm the most content I've ever been in my life."
The two young parents had met through their respective parents. Their mother set up their children in a group chat and Dana's mother wanted experienced Jordin to assist more in her son's career. In an Interview with PEOPLE on 6 May 2018, Isaiah shared:
My mom was trying to get [Jordin] to talk me out of moving to L.A. because she's experienced the industry out here. It wasn't like, 'We want you guys to date.
The pair bonded quickly, and after talking for a month, Isaiah flew out to Los Angeles to met his future wife for the first time over Easter weekend. Spark, who has a net worth of $10 million, recalled those days and exclaimed:
"A couple days after we had actually met, I was like in my head 'That's going to be my husband! That's my husband right there,'"
Sparks discovered her pregnancy in late August 2018 and shared her moment of revelation in an interview with PEOPLE. She stated,
"It was about five days after he moved to L.A. He comes in and I go 'I'm pregnant.' It was such a shock for both of us. I turned around and started bawling in the closet. It's been really crazy because everything changes. Everything has been so crazy and fast-forward. Once we got over the initial shock of it, now again just like it is with the marriage, to be able to share that this amazing thing is happening, it's such a great thing. We did this together!"
had also discussed early that they won't be moving in together until they are pronounced as husband and wife.
The model had secretly married to her singer girlfriend, Jordin Sparks while on vacation in Hawaii with the attendants of a small group of friends on 16 July 2017. In November 2017, the couple surprised their well-wishers and followers with their wedding news, along they came up with news about their new addition.
Similarly, in February 2018, the parents-to-be couple went on a babymoon vacation in Cancun to celebrate their child's birth, and upon returning from the holiday, their family threw a low-key baby shower in Sparks' native Arizona.