News
Daphne Oz Is Pregnant With Baby No.3! Reveals It In A Cute Post With Husband John Jovanovic
Daphne Oz confirmed the happy news of her pregnancy with her husband John Jovanovic through an Instagram post on June 6, 2017.
In the adorable Instagram post, Daphne is kissing her husband John, and she exclaimed that they are welcoming a baby girl in the late winter 2017.
Daphne is pregnant with the third baby as Daphne and John are already parents of daughter Philomena Bijou (3 years old) and son Jovan Jr. (17 months). Daphne also mentioned that her kids in her Instagram post and stated that Philomena and Jovan would be the best siblings.
"Philo and JJ will be the best big siblings!!"
Addressing all the people who were guessing about the pregnancy, she wrote,
" I know lots of you guessed, and I could not wait to tell you!! Exciting times ahead!!"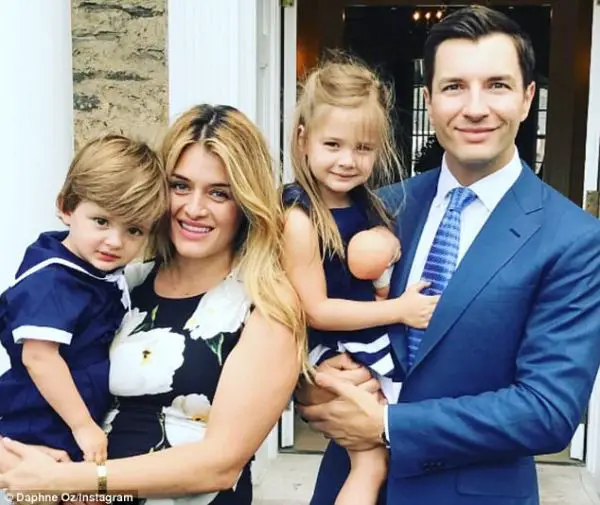 Caption: Daphne OZ posing with her husband John Jovanovic along with daughter Philomena Bijou and son Jovan Jr.
Photo Credit: Daily Mail
Moreover, Daphne's The Chew team also congratulated her on the pregnancy through a Twitter post on June 6, 2017.
In a past interview, she had mentioned that she would like to have a big family and more kids.
'I would love to have more kids.'
Similarly, she stated that being a mom is a tough job but sill she loves to have more kids.
'They are a lot more work than I think I would have acknowledged earlier. Back in the early days of The Chew I always talked about wanting seven kids and I still would love a big family. On Instagram, I'm an obsessive follower of parents with lots of children,'
Adding to that, she also talked about pregnancy in an interview with Fit Pregnancy while being pregnant with her first child, and she shared that the pregnancy has changed the way.
'Being pregnant has changed the way I see myself, 'On the show ... we had two Victoria's Secret models, and I was like, "Ha-ha, I don't have to worry about looking like that!" I definitely would not have been happy if they had been there before I was pregnant.'
Daphne further added,
"Having experienced real body insecurity as a teenager, I only fully came to appreciate how carefree and in love with my body I could be once I got pregnant,' she went on."
Daphne believes pregnancy has lessened her inhibitions, which is evident through her statement that says,
'Being pregnant has made me much more uninhibited,' she said. 'That's partially because I don't feel any need to hide my body, thanks to my growing belly
Talking about the couple, Daphne OZ met John Jovanovic at Princeton University, as they both graduated from Princeton. Daphne exchanged wedding vows with John on August 26, 2010, at the Municipal Marriage Bureau, Manhattan amidst friends and family.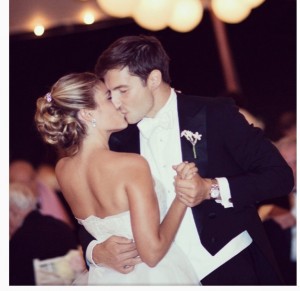 Caption: Daphne OZ and John Jovanovic kissing at their wedding.
Photo Credit: dailyentertainmetnnews.com
Congratulations to the lovely couple Daphne and John on the baby bliss!
Stay with us for the emerging updates on Daphne Oz!