News
She's Dating! MAFS Star Michelle Marsh Reveals her Romance with Boyfriend through Instagram
Michelle Marsh, a former Married at First Sight star, who couldn't find love on a national television reveals her new romance through a picture on her official Instagram account.
The beautiful Michelle confirmed her new relationship by sharing a picture with her mysterious lover on Sunday. She shared the image with a sweet caption that said,
"My days are better because of this one???? #mytattooedman #happiness#foundhimatthebeach#almostbrokemyneck #whatlovelookslike#smilesallround #givemeasmooch#sunshine #ourspot #loveatfistsight#notmarriedatfirstsight #????
Michelle's past 'husband' on Married At First Sight, Jesse Konstantinoff also gave his seal of approval to Michelle Marsh's new dating affair in the comment section. He said-
'Check out these two love birds'
And then added-
'He's a good bloke, you're a lucky one'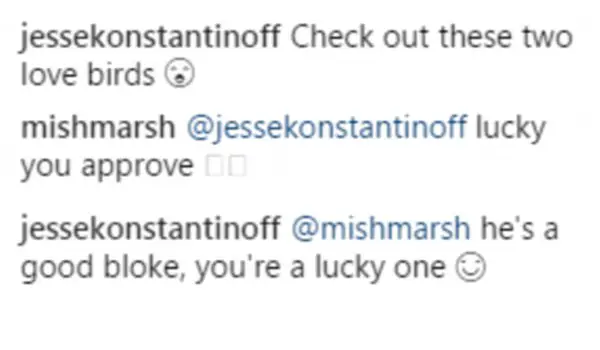 Caption: Michelle Marsh former 'husband' on Married At First Sight, Jesse Konstantinoff also gave his seal of approval to her new affair.
Photo Credit: Dailymail
In the picture, the thirty-one-years old beauty and her boyfriend were seen leaning for a kiss as they posed for a perfect smiled picture. Her mysterious tattooed boyfriend whose identity remains concealed is believed to be "Adam."
Earlier this year in April, she posted a beach picture with her beau where she wrote-
"When Google weather app says it's going to be stormy ? today .... I think it needs to take a reincheck ?????????????? #summersalmostgone #summer #perthbeaches #tattoo #kittyandloki #hotstuff #wa #ourspot #sunandsand #salty #hunkyAdam"
In the same month, a source reported that Michelle was on a romantic date with a mysterious guy identified as Adam. They were spotted holding hands at a Perth football game where they looked intimate together. The source said that the rumored couple was like giggly teenagers who were clearly in love.
Stay with us for the emerging updates on the mysterious love affair of Michelle Marsh!