News
Deadmau5 Gets Married To Longtime Girlfriend! Combo of Beautiful Wife And Exquisite Wedding Ceremony
Deadmau5 Gets Married To Longtime Girlfriend! Combo of Beautiful Wife And Exquisite Wedding Ceremony The Canadian DJ and record producer Deadmau5(Joel Thomas Zimmerman) got married to his girlfriend, Kelly "Grill" Fedon on Saturday, August 12. The 36-year-old Deadmau5 kept on giving updates about his wedding through his Instagram and Twitter. Right after tying the knot, Deadmau5 shared a picture with his beautiful bride on his Instagram stating "Mr and Mrs grill."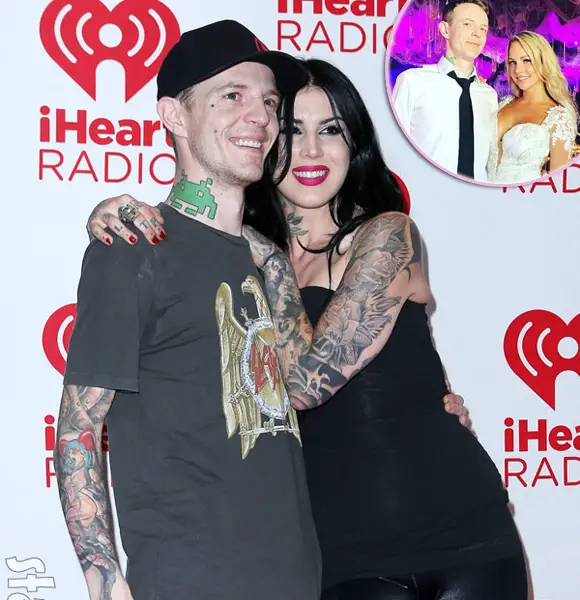 The Canadian DJ and record producer Deadmau5(Joel Thomas Zimmerman) got married to his girlfriend, Kelly "Grill" Fedoni on Saturday, August 12.
The 36-year-old Deadmau5 kept on giving updates about his wedding through his Instagram and Twitter. Right after tying the knot, Deadmau5 shared a picture with his beautiful bride on his Instagram stating "Mr and Mrs grill."
Prior sharing the photo with his wife, he shared different images from the ceremony. He previously posted the picture of real estate saleswoman Kelly, who was seen sitting in a makeup chair to get ready for their big day.
Meanwhile, he shared the picture of his groomsmen that included Canadian HGTV host Bryan Baeumler and fellow DJ and record producer, Steve Duda.
He even showed a glimpse of his wedding venue saying-
"Everythingns sill fine."
A day before his marriage, he took his Twitter to reveal that he is getting married. Another followed this tweet of him that stated he is serious and will be active again on social networking sites on Monday after going offline for two days.
Right after the wedding, Deadmau5 will be getting ready for his tours, which are going to begin from August 19.
i'm actually serious, going offline for 2 days. tomorrows our big day, and i have to entertain guests and shit, so seeya monday. — dead mow cinco (@deadmau5) August 11, 2017
He was previously known for his on and off relationship with a tattoo artist; Kat Von D. Deadmau5 was engaged to his ex-girlfriend Kat from December 2012 to June 2013.
When the pair was together, they made plans for an underwater-themed wedding, but at the end, their relationship didn't last long. Deadmau5 revealed the news about his separation in July 2013 through Facebook, where he also stated that he had affairs with another woman while they were not dating.
Prior Deadmau explained the separation; Kat took Twitter to reveal that her boyfriend cheated on him.
On January 2016, Deadmau5 shared a picture of Kelly wearing an engagement ring on her finger, where he revealed that he had secretly popped the question to her.
Stay with us for further updates on DeaMau5 and Kellu "Grill" Fedoni!