News
Debbie Matenopoulos' Family Fun with Baby Daughter and Photographer Husband
If you ask Debbie Matenopoulos, the co-host of Hallmark Channel's Home & Family, what is the best feeling in the world? Her answer would post probably be motherhood. So, let's find out how her time passes as a triple threat, a TV host, a wife, and a mother.
Debbie, who is one of the original hosts of The View, became a mother very recently. She gave birth to daughter Alexandra Kalliope Falcone on October 29, 2014, and her life has been a rollercoaster ride ever since. From doing TV shows, hosting red-carpet events to coming home to her husband and daughter, a busy schedule she manages with ease.
Here is a twitter feed by Debbie announcing the birth of her daughter Alexandra.
 Debbie Matenopoulos, who is a host for VH1's Special is married to Jon Falcone, a photographer. The couple started dating around 2012, after knowing each other through mutual friends. Debbie announced that she was four months pregnant and she secretly eloped with Jon in 2013, during the shoot of her recipe book in Greece. She revealed the details in an interview with People.com
She was previously married to the founder of Mammoth Records and the president of Music at Lions Gate Entertainment, Jay Faires. The couple was married in 2003, and it ended in a bitter divorce in 2008.
Alexandra's TV Presence:
Debbie's daughter, Alexandra is quite a star on her show. She visits her mother on the set almost regular. Even her co-hosts are fond of the cuteness that she has to offer.
Here are some Twitter posts by Home & Family and the co-hosts showering Alexandra with love.
Debbie Matenopoulos' Professional Life
Debbie Matenopoulos first worked as an intern in MTV. In 1997, she had a chance to meet Barbara Walters and had the opportunity to become one of the original co-hosts of The View. She later joined the Good Day Live team in 2004. Debbie was hospitalized in September 2004 while attempting a stunt for a segment for the show. The show got canceled in 2005.
She joined E! for the coverage of the Golden Globes and became a co-host of The Daily 10.
She became the co-host of The Insider in 2006 and currently is the co-host of Home & Family in Hallmark Channel.
Debbie's Ethnic Background and Cookbook
The former judge of He's a Lady, Debbie is not just a television personality, but apparently, she is also an author. She has written a cookbook along with Peter Capozzi named Its All Greek To Me. The book features the recipes of some amazing Greek food. Growing up following Greek traditions, Debbie belongs to Greek ethnicity. Her father Nicolas T. Matenopoulos was a furniture maker and her mother, Efrosini was a hair stylist who was the immigrants from Greece.  
 
Debbie Matenopoulos Dresses Up For Oscars 2017
Debbie's fashion sense is quite applauded, even amongst the pros. The 'Home & Family' host has been commended multiple times for her glamourous dresses at different venues and events and this year's Oscars; she decided to take it up a notch. With friends/partners Nick Verreos and David Paul, she decided to make a dress perfect for her, a dress that would highlight all her beautiful features and amplify it. The initial idea started with Debbie drawing a rough sketch of her custom tailored Gown which was sent to Nick Verreos promptly.
"About a month ago( as of late February 2017), Debbie contacted me and said 'Would you be into the idea of creating a custom gown for the Academy Awards?' She sent me some ideas on what she was thinking – a plunging neckline and possibly a blush or nude colored sequined fabrication. I sketched her about six different styles … she chose one (my favorite, I must admit!) and from there, it was 'done and done,' as they say!" says the Nikola Design owner.
Debbie and designer Nick Verreos complimented each other well, and the two got together to design the most attractive dress at the Oscars.
Debbie was quoted talking about Verreos stating,
 "I think Nick is one of the greatest red carpet designers working today. He really understands a woman's body and what is going to look best on each woman he dresses."
At the same time, Nick himself went on to compliment on Debbie's look whilst wearing the Dress saying,
"I knew the gown was perfect the minute she put it on: We were all in her dressing room, she came out and well, I just about fell on the floor, screamed in excitement and nearly pushed her over with glee. Debbie looked like one of my fashion sketches; it was as if she brought my sketch to life."
and further added,
"Seeing Debbie's face after she tried the gown on, it was as if she had gotten a VIP spa service AND beauty treatment all wrapped up in blush colored sequined silk tulle!  Her happiness and excitement in seeing the final product is my favorite part."
The end result? Absolutely fantastic!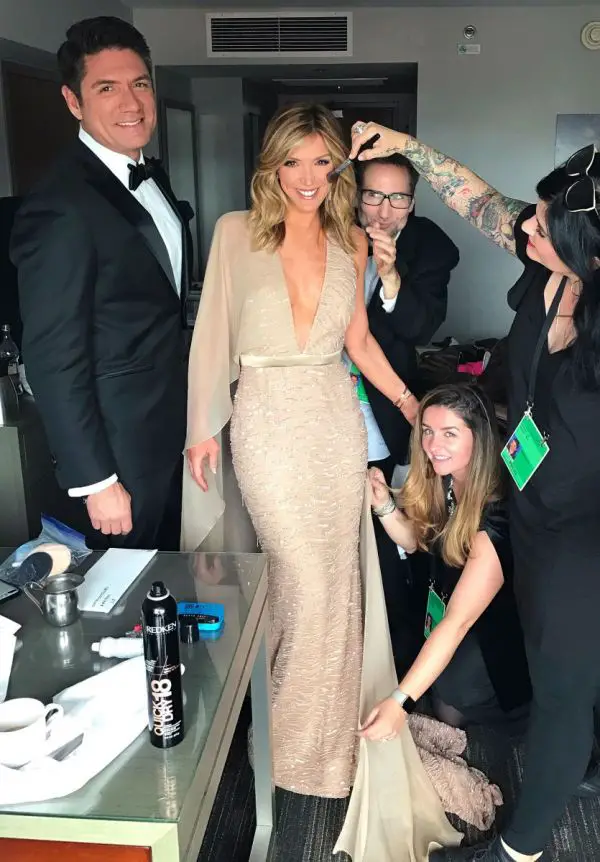 Caption: Debbie Matenopoulos' Oscar Dress-up, Looking absolutely fantastic
Photo-Credit: People.com
While Debbie was applauded by many for her outfit, the greatest compliment came from her daughter who insisted that Debbie looked Elsa from Frozen. And that means a lot, coming from a little girl.
Debbie, birth name Despina Matenopoulos, was born on December 13, 1947, in Richmond, Virginia. She attended John Randolph Tucker High School. She was a Virginia Commonwealth University student before joining New York University as a transfer in Journalism Department.