News
Dis-Engaged! Ben Higgins And Lauren Bushnell Split With A Heavy Heart
Ben Higgins and Lauren Bushnell split with each other, as reported on May 15, 2017. The couple announced that they have broken up via a statement to The People.
Expressing their decision to go separate ways, Ben and Lauren announced,
"It is with heavy hearts that we announce our decision to go our separate ways, we feel fortunate for the time we had together, and will remain friends with much love and respect for one another. We wish nothing but the best for each other, and ask for your support and understanding at this time."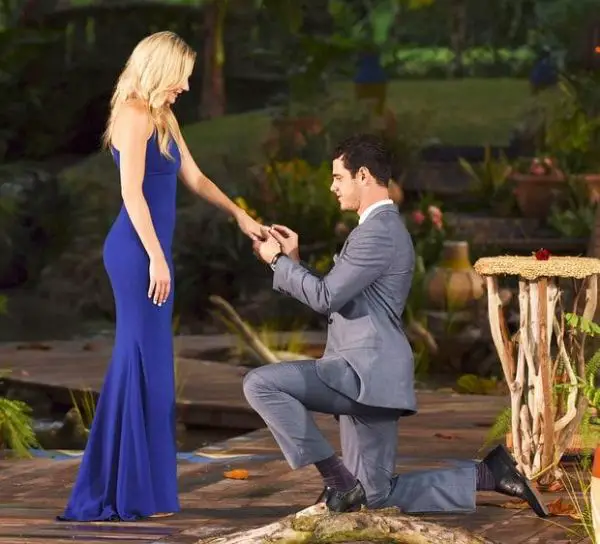 Caption: Ben Higgins and Lauren Bushnell got engaged with each other on March 14, 2016.
Photo Credit: hollywoodtake.com
Ben and Lauren met on the show The Bachelor which was premiered in January 2016. Ben proposed Lauren with a 4.25-carat Art Decor style ring set with a central radiant-cut diamond surrounded by over 240 round and baguette cut diamonds and according to ABC, it's the largest ring to be given in the entirety of the franchise, both Bachelor or Bachelorette. Lauren accepted the proposal, and the couple got engaged on March 14, 2016.
Shortly after announcing the engagement in March, the couple also tried to resolve their issue and moved together to Ben's hometown, Denver.
In October 2016, Ben and Lauren further revealed that they underwent counseling at the church to work on their relationship. Addressing the matter, Ben exclaimed,
""We're not the perfect couple far from it! But we are trying really hard and we love each other a lot."
And Lauren added,
"There are so many weird elements to being in a relationship after The Bachelor, we've gotten in arguments like any other couple, but about some things that other couples wouldn't have to fight about, like the fact that we met when he was dating other women. You can say that's what I signed up for, but it's still real life and it's still hard."
The trust issues always lingered in the relationship of Ben and Lauren. Speaking about the same, Lauren divulged,
For a long time, I was really angry for being blindsided, and that resentment and anger affected our relationship much longer than it should have."
Moreover, Ben and Lauren shared their thoughts on getting married. Regarding the matter, Ben said,
"We just want to do it on our own terms, I just want to look over at Lauren and know that she is completely filled with joy in that moment. … Love is what life is all about."
Sharing her thoughts on the matter, Lauren exclaimed,
 "We're both ready to get married, but we haven't set a date because we want to make sure we're not doing it for anyone but ourselves,"
Speaking of Ben Higgins career, he had a steady job, working in tech sales as a business analyst. After his appearance in "The Bachelor," he got promoted to the post of Account Manager in his old firm, Talisys. Moreover, he has an office in Colorado House of Representatives since summer 2016 and is a politician as well.
Ben Higgins Gives The Reason For The Break-Up!
In an interview with ET on May 18, 2017, Ben gave his reason for the split with her ex-girlfriend Lauren Bushnell and stated,
"It's hard to say goodbye to somebody that you spent so much time with, and it's hard to say goodbye to somebody that you really did believe was the one for you,"
Also Ben shared the reason for their break up.
"I think, mutually, Lauren and I saw that life was getting more difficult, I would say the joy that we felt toward our relationship at the beginning was -- for some reason -- slipping away, and we were both working very hard to bring that joy back. And it just never seemed to get there. So, it was a long time coming, but it wasn't necessarily like we dragged it out."
But the break up has not made Ben bitter, and he claims that Lauren has made him a better person and said,
"I am a better man today because of Lauren and because of our relationship than I was two years ago,"
Moreover, Ben gave a politically correct statement and said,
"Just to be as politically correct as possible and to also be as truthful as possible, Lauren will always be one of my best friends, it's [a relationship] where I learned a lot about myself; I think she learned a lot about herself. Obviously, she knows me better than anybody else that has gone through this experience, and really probably anybody else in the world. It's tough."
After attempts of saving their relationship, Ben and Lauren have part ways as the best decision!
Stay with us for the latest news on Ben Higgins and Lauren Bushnell!