News
Model Elsie Hewitt Sues Her Boyfriend Ryan Phillippe, Accusing Him of Drug Abuse and Domestic Violence!
Playboy model, Elsie Hewitt sues her actor boyfriend Ryan Phillippe as she accuses him of drug abuse and domestic violence.
Elsie (age 21) has just filed a lawsuit against the actor for $1 million in damages claiming that he has beaten her severely and abused cocaine, ecstasy, psychedelic mushrooms, and steroids.
According to the lawsuit obtained by TMZ on 4th July, Elsie realized that Ryan was extremely drunk when she went to pick up things from his house. TMZ explained-
She (Elsie Hewitt) says after she tried talking with him he attacked her, grabbed her upper arm so hard it left heavy bruises and violently threw her down the stairs as hard as he could. She claims he continued his assault and picked her up like a doll and threw her down the stairs again. He then screamed, "Get the f*** out of my house you crazy c**t."
Elsie then went to the hospital where cops took a report, and she received a protective order. As a result of physical abuse, Elsie suffered severe bruising, chest wall pain and abrasions.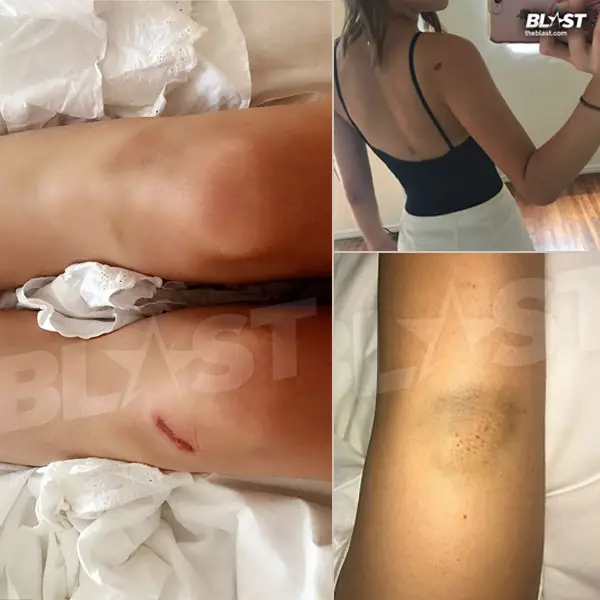 Caption: Elsie Hewitt's visible bruises after the alleged incident with Ryan Phillippe.
Photo Credit: Liverampup
However, a source close to Ryan has denied all the accusations. The source connected to Ryan explained-
"Elsie showed up to Ryan's house uninvited and under the influence several days after he broke up with her. They say she was the one who attacked Ryan and refused to leave his home. He removed her from the premises and he claims she fell and hurt herself."
The source further stated-
"The L.A. City Attorney refused to prosecute after investigating, and they claim she's filed this lawsuit out of revenge. We're told Ryan's side finds it amusing Elsie has sent glamour shots of herself to the media and is out for money and fame."
The model, who grabbed massive media attention by spilling banana split all over her, started dating Ryan Phillippe in April. Elsie claims that Phillippe immediately became "infatuated" with her after his breakup with his former girlfriend-turned fiancee Pauline Slagter.
Ryan and Pauline were together for five years before they ended their relationship in November of 2016.
The family man Ryan has been married once and is a father of three children. He was married to Reese Witherspoon from the year 1999 to 2007, with whom he shares a daughter, Ava Elizabeth Phillippe, and son, Deacon Reese Phillippe.
Likewise, he has a daughter Kailani Merizalde Phillippe-Knapp with his ex-girlfriend Alexis Knapp.
Stay with us for the further updates on the developing story!