News
British Vet Actress Emma Chambers Dies At the Age of 53
British actress Emma Chambers, best known for playing Alice Tinker in The Vicar of Dibley, died from natural cause at the age of 53 on Wednesday evening. However, it was officially announced on Saturday.
The official announcement of Emma's death was made to BBC by her agent John Grant, further expressing his condolence in the griefing moment. As per John,
"Emma created a wealth of characters and an immense body of work," 
Chambers, who starred as Hugh Grant's sister Honey in Richard Curtis' Bafta-winning film Notting Hill, leaves her husband Ian Dunn alone after her death. Emma Chambers was married to an actor from Outlanders and Doctors, Ian Dunn in June 1991.
Despite being in a sustained married life, the pair never added children to their family.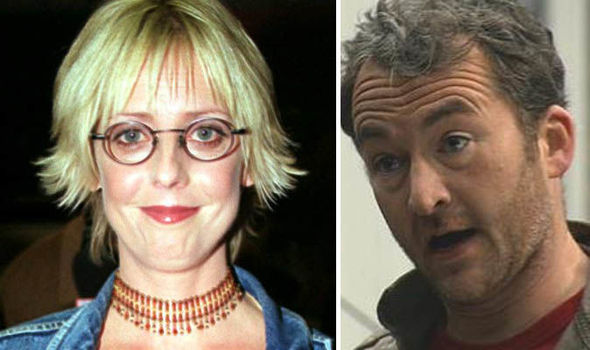 Emma Chambers and her husband, Ian Dunn (express.co.uk)
Besides her agent, Emma's best friend broadcaster, Emma Freud also expressed her grief over Emma's death through her tweet, where she stated:
"We're very very sad. She was a great, great comedy performer, and a truly fine actress. And a tender, sweet, funny, unusual, loving human being."
Moreover, Dawn French, who shared the screen with Emma for 13 years at The Vicar of Dibley, paid tribute in Emma's death by sharing a picture with Emma on Twitter adding how unique and beautiful she was.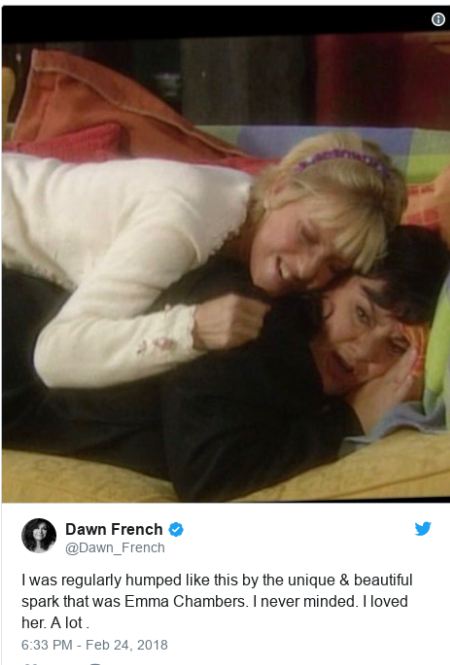 (Photo: Dawn French's Twitter)
Emma was best known for her comic character and used to add up a smile on everyone's face, and the news about her death shocked most of the people out there.
After the official announcement of Emma's death, fans of The Vicar of Dibley displayed their grief and paid tributes after her death on social media, stating her as an "amazingly talented and hilarious actress who lit up people's televisions" and a "comic genius."
Emma Chambers, who was born on 11 March 1964 in Doncaster UK, showed her acting talent in several films. Some of her notable works in an acting realm include her portrayal of Alice Horton in The Handsome Stranger, Martha Thompson in the series Take a Girl Like You and Alice Tinker in Celebrity Vicar. 
Lately, Emma Chamber is not with us, but her notable works and roles in filmography keeps her alive in the heart of every fan. Though she is dead physically, her work and acting credits will always be remembered by her fans and will be the incentives for budding actors.