Trending
Fox News' Boss Roger Ailes, in Sexual Harassment Lawsuit, Against Former Anchor Gretchen Carlson
Breaking news hit the journalism field recently on July 6 when Gretchen Carlson, @GretchenCarlson filed a lawsuit against her former boss, CEO of the Fox News Channel, Roger Ailes claiming sexual harassment and illegitimate termination.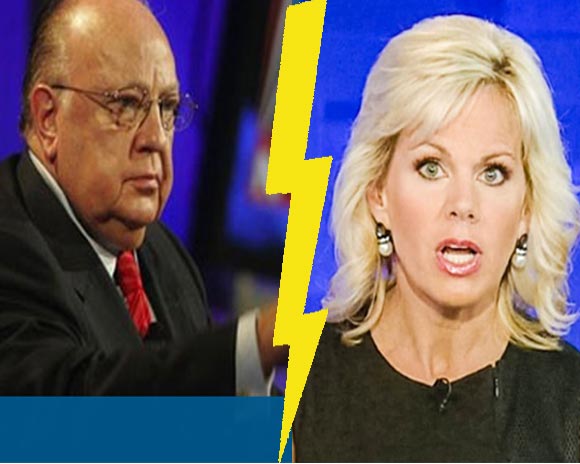 Quick Information
Wedding Date

February 14, 1998

Eye Color

Dark Brown

Hair Color

Black & White

Hair

Short

Weight

N/A

Height/ How Tall? 5' 8" (1.73 m)
College

Ohio University

Career

1962-2016

Net Worth

$100 Million

Salary

$20 Million

Dating/Affair

No

Gay

No

Ex-Wife

Norma Ferrer (m. 1981–1995), Marjorie White (m. 1960–1977)

Date of Birth B - 1940-05-15, D - 2017-05-18
Divorce/Split

Yes (Twice)

Wife/Spouse

Elizabeth Tilson (m. 1998–2017)

Relationship Status

Married

Son/s

Zachary Ailes

Brother/s

Robert Ailes Jr.

Mother

Donna Marie Cunningham

Father

Robert Eugene Ailes

Ethnicity/Race

Mixed

Zodiac Sign

Taurus

Birth Name

Roger Eugene Ailes

Profession

Television Producer

Nationality

American
Gretchen Carlson filed a lawsuit against her former boss, Roger Ailes, CEO of the Fox News Channel, with charges of sexual harassment and illegal termination on July 6.
A lawsuit against Fox Channel CEO:
The lawsuit filed by Gretchen Carlson claims that she was fired/terminated after she refused Roger's sexual advances. However, the Fox News CEO has addressed all these allegations as an act of defamatory.
Mr. Ailes had his say on the matters, "This defamatory lawsuit is not only offensive, but it also is whole without merit and will be defended vigorously." In another news, the Fox Channel has announced an internal investigation.
According to CNN Money, Roger Ailes made a statement regarding the matter,
"This is a retaliatory suit for the network's decision not to renew her contract, which was due to the fact that her disappointingly low ratings were dragging down the afternoon lineup," he said. "When Fox News did not commence any negotiations to renew her contract, Ms. Carlson became aware that her career with the network was likely over and conveniently began to pursue a lawsuit."
In the lawsuit obtained by Politico, it is claimed that 'Ailes has unlawfully retaliated against Carlson and sabotaged her career because she refused his sexual advances and complained about severe and pervasive sexual harassment.' The lawsuit also claims that Mr. Ailes allegedly spoke the following words,
"I think you and I should have had a sexual relationship a long time ago and then you'd be good and better and I'd be good and better."
According to Huffington Post, at least ten other women have approached Smith's law firm to talk about Mr. Ailes's alleged behavior inside an hour of the announcement of Carlson's lawsuit.
In a memoir written by Carlson, 'Getting Real,' she explains her career as a journalist and her struggles to become one. In the book, she says the following things,
'He saw something in me that he liked – what he called my "killer instinct." He once noted that I would stop at nothing to do the job. He got me. He was also the first person to urge me to talk about being Miss America. CBS had taken the reference off my resume, and I had come to see it – unfortunately – as not especially good for my credibility."
This memoir was published just about three months before the alleged conversation took place between Carlson and Ailes.
In her complaint, she has also stated that Roger said marriage was 'boring,' 'hard' and 'not much fun.' Roger Ailes is married to Elizabeth Tilson and has a son named Zac.
Carlson has informed her fans and viewers through her social media accounts regarding her exit from the Fox News Channel.
Current Twitter trend:
Here is a video report from CNBC where they discuss the possible outcome of the case:
[video deleted by source]
However, the lawsuit that Gretchen filed against Roger seems to be going off boundaries as there is news running that Roger Ailes is leaving the Fox News Channel as well.
Is Roger Ailes leaving Fox News?
A post released by the New York Post last night on Tuesday reported that "the end is near for Roger Ailes." In the report, it was discussed that the 20 years long boss of the Fox News Channel could be departing from the channel anytime soon. It is also reported that Roger Ailes is being forced to leave the channel by the CEO of its parent company the 21st Century Fox, James Murdoch, in the wake of the lawsuit filed by Gretchen Carlson against him. However, Roger has continuously demurred the allegations.
The departure of Roger is not fixed yet as per Roger's lawyer. With New York Post she said,
"There's lots of cross talk, but no agreement has been reached."
However, many of Roger's long-time employees believe that Roger will depart from the channel within days considering the current scenario.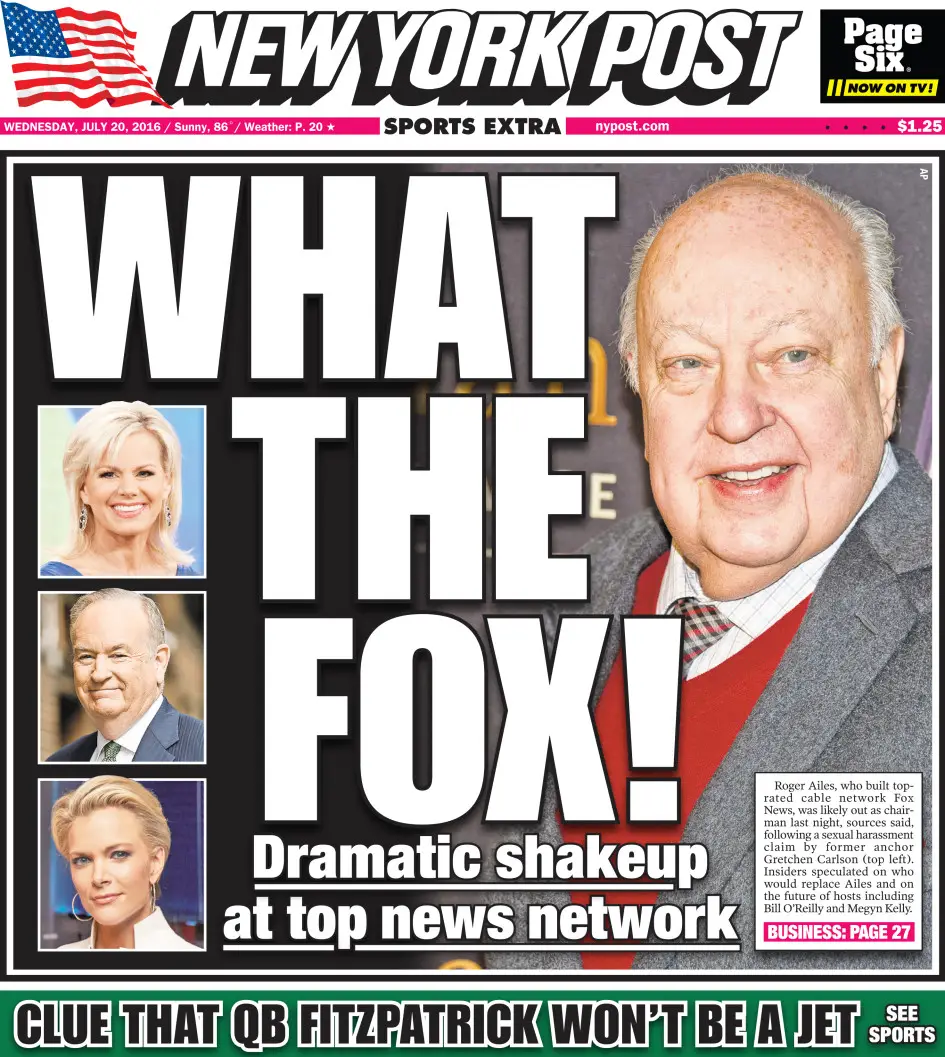 Caption: The New York post on Roger Ailes.
Source: nypost.com
Aftermath of the Fiasco:
The lawsuit ended with Roger Ailes being forced to leave Fox News as well as Carlson getting paid $20 Million by Fox News as well as a public apology to Carlson by the company. This certainly isn't enough to remove her experience as a sexually harassed victim, but it sure can help ease her pain.
Gretchen Carlson Joined Fox News Channel in the year of 2006. She is currently married to Casey Close. The couple is currently living together merrily with their two children.