News
Wedding Bells! Gary Oldman Gets Married for the Fifth Time with Gisele Schmidt
Congratulations to the newlyweds! 
Actor Gary Oldman has shared 'I, do' for the fifth time! In an intimate ceremony along the company of just close ones, Oldman got married to art curator Gisele Schmidt at his manager Doug Urbanksi's house in Beverly Hills, California in late August. 
The couple, who had been keeping their relationship status a secret, finally revealed that they are indeed a married couple. Confirming his marriage, Oldman told sources, he did it "quietly."
His manager Urbanksi also gushed that Oldman knew Schmidt for around four or five years and that, their wedding ceremony only had several dozen friends. 
On Wednesday, November 8, 2017, Oldman and Schmidt made their recent public appearance as a married couple on the premiere of Winston Churchill biopic Darkest Hour in Beverly Hils; they even shared a sweet kiss for the cameras!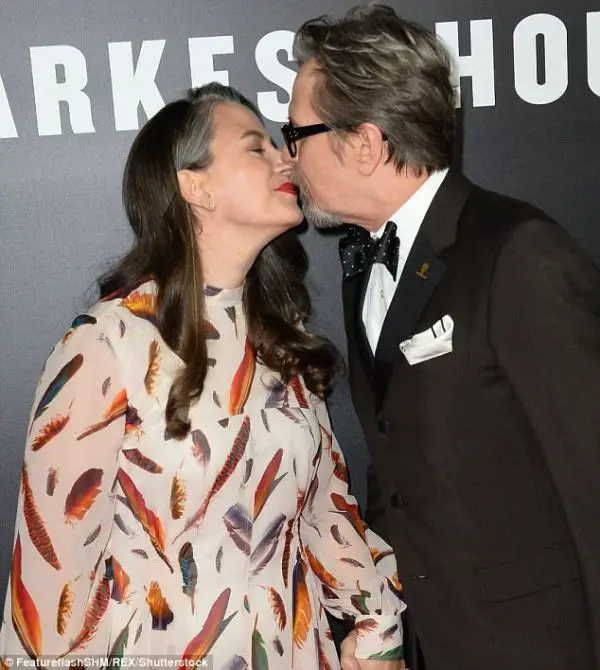 Caption: Gary Oldman sharing a kiss with his newly-wedded wife Gisele Schmidt on the premiere of Darkest Hour in Beverly Hills. 
Photo Credit: DailyMail
According to sources, the couple started dating when Oldman got separated from his fourth wife- singer and actress Alex Edenborough, whom he was married to from 2008 to 2015. Although the pair couldn't work things out in their relationship, Oldman was initially hopeful; that his fourth marriage would be his last,
''Practice makes perfect. Isn't that what they say? I'm not proud that this is my fourth marriage. But this is a good one. Hopefully, my last one ."
Additionally, Oldman's first got married to British actress Lesley Manville in 1987, but sadly, they parted ways in 1989, just three months after their son, Alfie was born. He then got married to Pulp fiction star, Uma Thurman between 1990 and 1992.
In 1997, Oldman tied the knot again with then photographer Donya Fiorentino, but their married life was troublesome, as Donya accused him of hitting her in a fight. Oldman won the sole custody of their children, two sons, Gulliver (19) and Charlie, (17) in the year 2001 when they parted ways with a divorce. 
Oldman is often accompanied by his sons at several red carpet appearances as well.  On February 2014, Oldman was spotted all-smiles with his sons at the premiere of his movie, Robocop.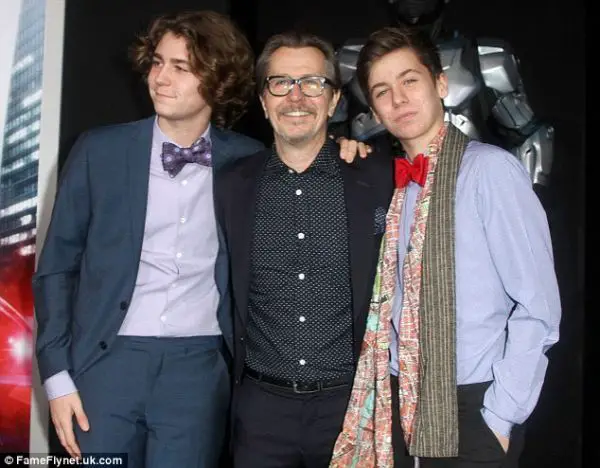 Caption: Gary Oldman with his sons, Gulliver Flynn and Charlie John at the premiere of Robocop. 
Photo Credit: DailyMail
The 59-year-old actor also shared that he feels like they are his most significant accomplishment,
" My biggest project has been the kids. And it's paid off, you know when you look now. 'One's just going off to high school and the kids grades are great, but it's another when they are a really lovely, charming guys. It's good. The career is one thing, and I've had a good career, but my biggest accomplishment is those kids.''
Indeed a proud father!