News
What a Turnout! Geoffrey Edelsten's Asserted Girlfriend Suzi Taylor denies Romance!
The industrialist Geoffrey Edelstan got a blow when his said girlfriend Suzi Taylor refrained from accepting the fact of dating Geoffrey. Suzi hastily denies the relationship news with Geoffrey to the radio show host Sophie Monk and Matty Acton.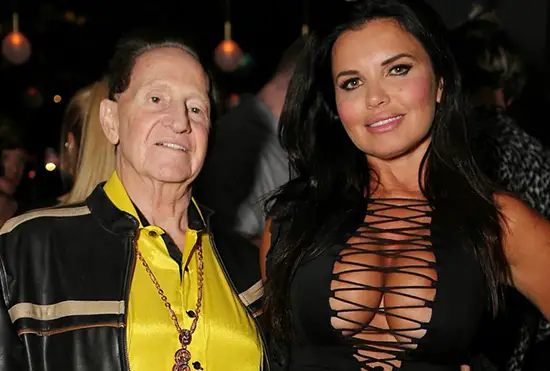 Caption: Geoffrey Edelstan with Suzi Taylor spotted at Melbourn, Australia.(2016)
Picture credit:heraldsun.com.au
The Block contestant, Taylor claims to have met Geoffrey once in the opening of Meatball & Wine Bar, in Melbourne Australia where Taylor had spoken few words with him and had taken a quick photograph with him. She blurted the scenario on the radio show KIIS FM's Summer Fling, which got published on news.com.au on 15th December 2016, she said:
"I am not dating Geoffrey Edelsten. Give me a little more credit than that, I have met him once in my life and had a photograph taken with him. We said hello, had a little chat, and next thing you know I'm dating him."
She added:
"Maybe he had a few too many drinks I don't know. I don't understand it ,it's crazy honestly, it's ludicrous."
To make her fan's and followers aware about the dating scenario Taylor has posted a smiling picture to her Instagram account on 14th December 2016 and has apparently informed her fans not to believe a single word of rumor as she is entirely happy with her children at present.
Not only the 44 years old model even her representatives vehemently deny the ongoing relationship with Geoffrey Edelstan to be a false one and also reveals the fact of dating another man but not Geoffrey.
The dating story was confirmed by Geoffrey Edelstan when he openly claimed about the brewing romance between him and Taylor. As posted by source news.com.au on 15th December 2016, posts he disclosed about him being a euphoric person who is enjoying the company and relationship with Taylor. He said:
"I am euphoric. I am enjoying her company and the relationship very much indeed."
When asked about the longevity of the relationship on 14th December 2016 Geoffrey hopes the relationship to last long and also brush the statement made by Taylor to be indigenous. He said:
"I certainly hope so. Oh, well. She'll just say whatever she likes."
Well, this is not the first time Geoffrey is facing such traumatic situation. While going through his past records, there are plenty of women like Gina Rinehart, Australia richest women with whom he had once shared his interest in dating her. There was Miami-born glamor model Gabi Grecko with whom he got married from the year 2009 to 2014 and simultaneously had an affair with the Playboy bunny, Ashley Kirk.