News
He's Gonna Be a Dad! Actor Jason Wahler's Wife Ashley Slack is Pregnant with their First Baby
The Hill's alum Jason Wahler is all set to welcome their baby number one with his wife Ashley Slack, and the baby is due to arrive in August.
Slack took it to her Instagram to share the news of the arrival of the couple's bundle of joy. She pictures a set of baby dress with the Sonogram, alongside which she wrote,
"LOVE + MARRIAGE = BABY," she captioned the sweet photo. "#werehavingababy #happiness #love #soexcited #august #2017thebestyearyet #babywahler."
On the other hand, Jason Wahler reposted the post which said," So blessed."
In an exclusive interview with Entertainment Tonight, the couple gushed,
"We are so overjoyed and excited for this baby! We absolutely LOVE kids and are so happy to finally be starting a family of our own."
The 30 years old Lacuna Beach alum shared how he is looking forward to witnessing the small growth of babies. He effused,
"have their first words or walk for the first time. All of it is such an incredible journey and blessing we get to be a part of."
The pair knew the gender of the child but declined to share that just yet. They are looking to host a small gathering for close family and friends to reveal the gender in March.
The pair first met through mutual friends, and after dating for years, the two got engaged in November 2012.
A year after their engagement, the couple took their wedding vows in front of their friends and family on October 12, 2013, in Malibu, California.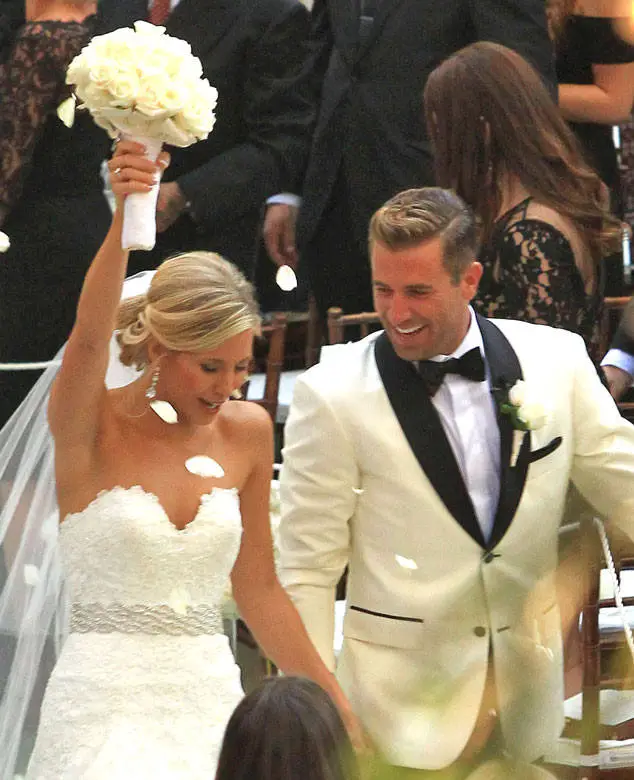 Caption: Jason Wahler got married to his longtime girlfriend on October 12, 2013.
Photo Credit: etonline.com
After four years of marriage, the couple is all set to say hello to the new member of the family. Many Congratulations!  
According to his wiki, the California-born TV personality Jason Wahler was born on January 11, 1987. He was born to parents Denese Wahler and Rick Wahler. 
Wahler appeared in The Hills from 2006-2007. Before that, he also appeared on Laguna Beach: The Real Orange County. More recently he was seen in Tv series Entertainment Tonight.