News
Gyton Grantley Announced the Arrival of Son: Both Husband and Father in the Same Year
The "Underbelly" star Gyton Grantley announced the arrival of his son Rocco "Rocky" James Grantley on 15 August 2016, by posting a beautiful black-and-white photo on his Instagram account.
In the picture, he was seen holding his newborn son's hand.
Gyton introduced his son Rocco to his 12,000 followers. His beautiful wife Alex Ortuso gave birth to their son last Wednesday, on 10 August 2016.
Thier son arrived five weeks prematurely.
Prior to giving birth to the baby, they were seen sharing their pictures on social media. In one of the picture, they shared, Grantley's wife Alex was seen flaunting her baby bump in a bikini.
Married to Long-time Girlfriend
Gyton Grantley got engaged to his girlfriend of five years Alexandra Ortuso in September 2015.
He proposed his girlfriend Alexandra during a holiday in Italy. They first met each other in 2010 at the Woodford Folk Festival in Queensland.
House Husband's actor Gyton Grantley married his long-time girlfriend, Alexa, in April 2016, in Byron Bay, north coast of New South Wales.
It was a secret wedding with their friends and family. The ceremony turned into a dubious joyful moment after the couple revealed the news about them expecting a baby. Seventeen weeks pregnant bride Alex said-
"We're both so excited to be welcoming a baby in September"
She further added:
"We keep getting little gifts from family and Gyton can't believe how small they are. I don't think he's ever seen a baby!"
Then, they also revealed that the upcoming wedding would be their second time. They secretly married three months ago at a registry office in Melbourne.
Gyton said:
"We had a small ceremony in Melbourne, so this second wedding was about sharing it with all our friends and family."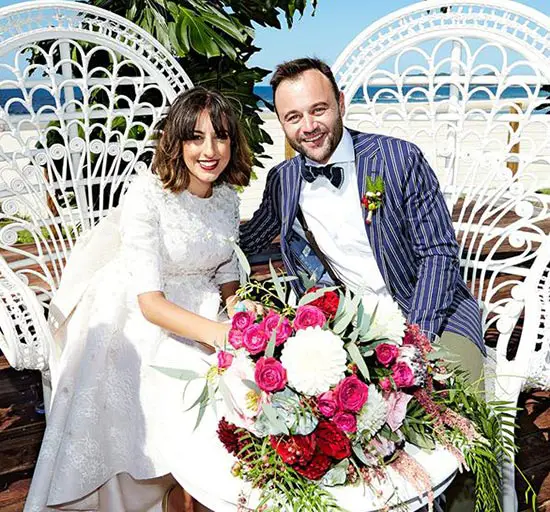 Caption: Gyton Grantley as a groom and his long time girlfriend Alex Ortuso as a bride. They enjoyed their wedding in April 2016, in Byron Bay, north coast of New South Wales.
Source: womensday.com
Grantley seems to have a great year as he became both husband and father at the same year.