News
Harvey Weinstein's Sexual Harassment Accusation Gets Him Fired! Wife To Support Him Anyway
A movie mogul, Harvey Weinstein was fired from his company, 'The Weinstein Company' on Sunday night after sexual harassment accusation which stated that he sexually harassed women for decades.
Soon after The New York Times uncovered all the allegations, Mr. Weinstein was notified of his termination by email Sunday evening. According to the statement which announced Mr. Weinstein's firing, the decision was taken after Mr. Weinstein's misconduct. The statement shared by the company stated-
"In light of new information about misconduct by Harvey Weinstein that has emerged in the past few days, the directors of The Weinstein Company ... have determined, and have informed Harvey Weinstein, that his employment with The Weinstein Company is terminated, effective immediately."
Lance Maerov, who is one of the company's four board members, said that Mr. Weinstein violated the company's code of conduct at some point. The action of terminating Harvey was taken by Bob Weinstein (Mr. Weinstein's brother), Lance Maerov, Tarak Ben Ammar, and Richard Koenigsberg.
Former Fox News personality Gretchen Carlson, who accused Ailes of sexual harassment, praised Weinstein's firing through Twitter.
Mr. Weinstein and his brother Bob own 42 percent of the company share together. Since Bob declined to comment and Mr. Weisntein couldn't be reached for the interview, it is not yet clear about what would happen to his share.
According to the article published by The New York Times on Thursday, Mr. Weinstein sexually harassed a number of employees and actress for more than 30 years.
The victims of the harassment include a TV journalist Lauren Sivan, Rose McGowan, and Ashley Judd. According to the article, Mr. Weinstein had reached at least eight settlements with former employees of The Weinstein Co. who accused him of harassment.
The accusation is marked as a humiliating fall for Weinstein, who has marked his place in the industry as a most powerful and controversial movie producer with a net worth of £153 million.
Despite the sexual harassment claims, Mr. Weinstein's British wife, Georgina Chapman seems to be sticking to him. Mr. Weinstein said-
"I have had tough conversations with my family, really tough ones, but my family is standing with me... Georgina will be with others kicking my a** to be a better human being and to apologise to people for my bad behaviour."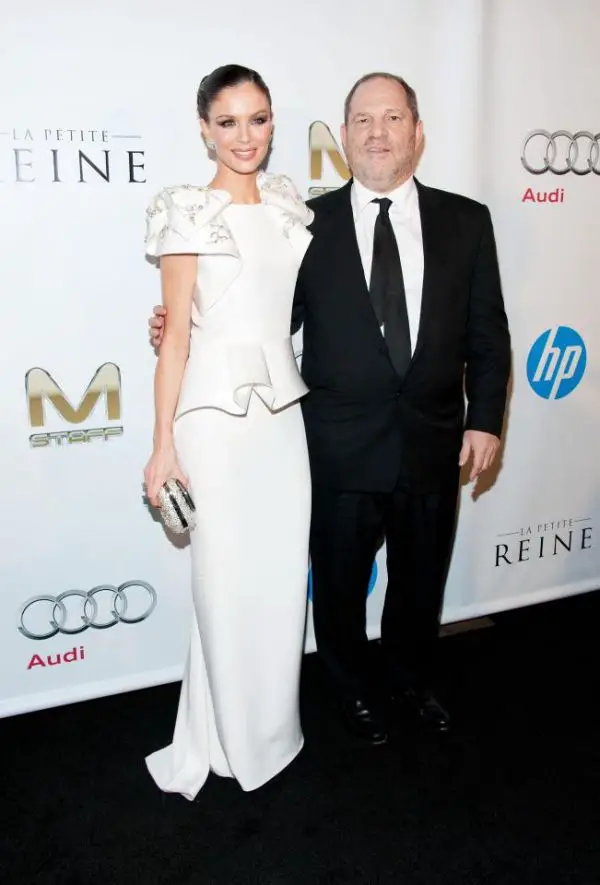 Caption: Harvey Weinstein and his supportive wife, Georgina Chapman.
Photo Credit: The Sun
Harvey Weinstein has been married twice. He was married to English fashion designer and actress Georgina Chapman in the year December 15, 2007, with whom he has a daughter, India Pearl (b. 2010) and a son named Dashiell (b. 2013).
He was previously married to assistant Eve Chilton in 1987 and got divorced in 2004. They share three children together: Remy (previously Lily) (b. 1995), Emma (b. 1998), and Ruth (b. 2002).