News
Holly Madison Welcomes Second Child: Shared Baby Son's Photo on Instagram
The Girls Next Door's Holly Madison gave birth to her second child on Sunday, Aug 7. Holly Madison and her husband Pasquale Rotella were blessed with a baby boy. The little Rotella weighed in at 8-pound
Holly and her husband announced the good news about the birth of her son the very next day via their Instagram account.
Caption: Model/television personality Holly Madison's husband was in the euphoric mood after the birth of their baby son. He expressed his feelings and thanked all the well wishers. He even said that he would post his son's image as soon as he returns home from the hospital.
Rotella first shared the picture on his Instagram account on Monday, August 9. He was seen holding his newborn son's hand. Likewise, Holly too shared an image holding her baby's tiny hand.
Caption: Holly's World Actress giving hi-five to her new-born baby
Holly said that her daughter Rainbow was the first person to whom they told about her pregnancy. To PEOPLE in March 2016, she said-
"She's rooting for a girl. I think she's going to be a good big sister. She's very caring, and she loves playing with her baby dolls and taking care of the pets."
And in January, she had said- "I'm kind of feeling the boy vibe, We'll see how psychic I am!"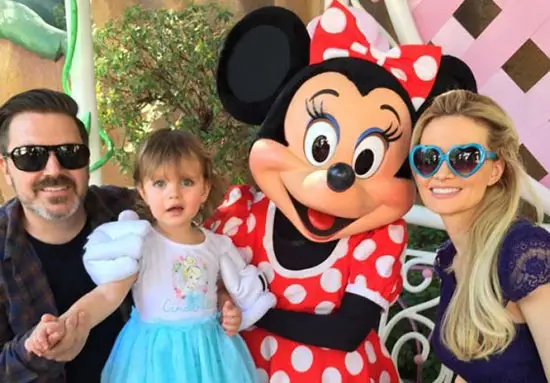 Caption: Holly Madison with her husband Pasquale Rotella and three-year-old daughter Rainbow Aurora, January 2016
Source: wetpaint.com
Well, there are congratulations and well wishes all around to Holly and her husband, Pasquale Rotella.