News
Cougar Town's Ian Gomez & Wife Of Over 2 Decades Nia Vardalos To Divorce! Era At End
Almost 25 years of wedding comes to an end!
The American actor, known for his comedic TV work, Ian Gomez, split with his wife of over two decades, Nia Vardalos, the Canadian-American actress and screenwriter. The couple called it quits after Nia filed for divorce from her husband citing "irreconcilable differences."
As per the court documents obtained by E! News, the producer of Greek descent, Nia listed the date of their separation as 29 June 2017. The former couple asked for a joint legal and physical custody of their daughter Ilaria Vardalos Gomez, who is at the age of 11.
Both, Ian and Nia released a joint statement backing their divorce. In the statement, the pair made clear that they have been separated for a long time and the separation is completely mutual.
They both reached the decision peacefully and are hoping that the divorce news would be reported decently. Their released statement read as,
"We've been respectfully separated for a lengthy period of time. Our relationship became a friendship so the decision to end the marriage is completely mutual and amicable. It is our hope that decency will prevail on the reporting of this story which will soon be yesterday's news. Thank you for respecting our privacy."
Well, Ian tied the nuptial knot with Nia back on 5 September 1993 and inspired by their wedding, the pair also became each other's co-stars in the 2002's movie, My Big Fat Greek Wedding following eight years of married life. 
In the movie, Nia portrayed the lead Fotoula "Toula" Portokalos-Miller, whereas Ian starred as the best man at Toula's wedding to Ian Miller, Mike. The pair shared quite a wonderful time together in the movie set.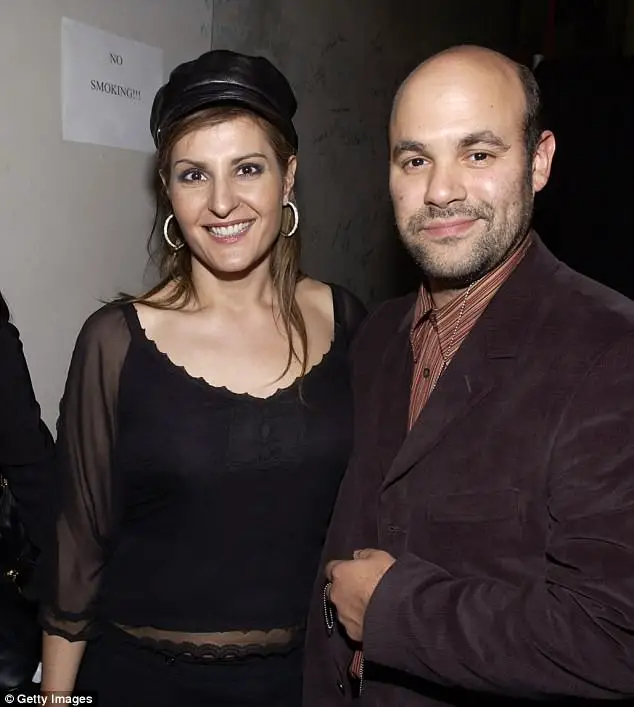 Ian Gomez and wife Nia Vardalos (Photo: dailymail.co.uk)
As time passed, the pair was looking forward to having a family of their own. The pair was trying to conceive a baby but things did not turn out they planned after they came to know about Nia's infertility.
After struggling with infertility, the then-married duo moved forward by adopting a girl named IIaria. Talking about her journey into adoption, Nia opened up about her struggle in her book, Instant Mom which hit the bookstores in 2014.
Moreover, she even revealed how glad she is now reminiscing about the time when she wanted to have a baby of her own. But now, she is glad that things did not work out before for she got to meet her real daughter on the process. She expressed,
"I believe now in the order of things. I believe everything was supposed to happen to me and not work, so that I could meet my real daughter. I get it now,"
 Well, she surely is blessed with a beautiful daughter. As of now, Ian and Nia have separated and looking forward to the joint custody of their baby girl.