News
James Matthews & Pregnant Wife Pippa Middleton Expecting First Child - 'Parents-To-Be'!
James Matthews and Pippa Middleton are on cloud9! 
The Duchess of Cambridge Kate Middleton's sister Pippa Middleton and her financier husband James Matthews, 42, are all ready to welcome their first child. The couple opened about their new addition to their close family and friends only after Pippa's 12-week ultrasound and Kate was the first person to know about her little sister's upcoming bundle-of-joy.
However, Pippa's pregnancy news surfaced on media after her father-in-law, David Matthews was arrested in March 2018, for the allegations of raping a minor teen between 1998 and 1999 in France. The Berkshire, England native's pregnancy news later surfaced on tabloids a year later in April 2018. 
Pippa's pregnancy became a sweet coincidence for Middleton's family as both of Middleton's sisters are pregnant at the same time. The Duchess of Cambridge, Kate Middleton is pregnant with her third child and set to welcome new addition to the royal family in April 2018. 
The new royal baby will join four-year-old brother Prince George and two-year-old Princess Charlotte.
Pippa Middleton tied the knot with former Professional car race driver, James Matthews on 20 May 2017 at St. Mark's Church in Englefield. The newlyweds went to 'French Polynesia' and 'Australia' for a whirlwind honeymoon.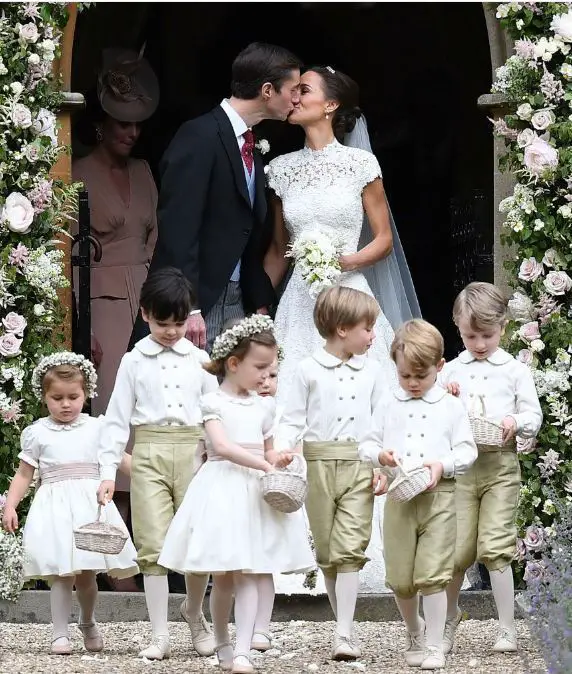 James Matthew and Pippa Middleton on their wedding day (Photo: glamour.com)
Well, the marriage did not come early in their life.
Pippa formerly had a boyfriend named Alex Louden., but he could not handle the sudden fame Pippa got after her sister, Kate became a member of the Royal family and eventually broke up with her.
After Alexa, the younger sister of Kate started dating James in 2012 but did not last long as James broke up reasoning the 8-year age difference. Pippa then dated Nico Jackson for three years, which followed reuniting with James in late 2015.
After the reunion, the hedge fund CEO, James popped the proposal to Pippa on their romantic getaway in Lake District, London. 
Pippa, who lives together with her husband in Jame's mansion, West London, is soon-to-be "Lady Glen Affric" of Scotland. As it turns out James' father holds the title of "Laird of Glen Affric" and owns a 10,000-acre Scottish estate, which James inherited.  
Keep Visiting for the latest updates on the life of James Matthew and Pippa Middleton!