News
Jamie Horn, 28, Engaged! Soon To Be Married With Fiancée Sheridan Smith, 36
Jamie Horn and Sheridan Smith are on cloud9!
28 aged Jamie Horn proposed to the eight years senior, Sheridan Smith, who is "head over heels in love" with Jamie, with a  £10,000 engagement ring. The Institute of Chartered Shipbrokers student exchanged engagement rings and left his £500,000 luxury apartment in Brentwood, Essex and moved into a rented home in North London with his fiancee.
Jamie, who is planning his wedding next year, is very serious about his fiance. An insider close to the newly engaged couple reported:
"Jamie is very serious about her.  He has introduced Sheridan to his mum already. He bought her a ring to propose, a very expensive one actually, it's about £10,000."
Though it is said that, Sheridan already met Jamie's mum, when The Sun reached to Jamie's mum, his mum Sandra, 60, exclaimed:
"I can't comment. They're friends. That's all I can say."
The soon-to-be-married couple is also celebrating their engagement going on a two-week romantic getaway to an exotic location. The source reveals,
"Sheridan wants to be with him whenever possible, including at work. They've even bought a dog together, which shows how serious she is about marrying him. They can't wait to have their first holiday together just them on a beach for the next fortnight."
And the Bafta award-winning actress has been fortifying her engagement ring by wearing it on her necklace as she tours around the country.The source claims:
"She doesn't wear the ring on her finger, she's got a necklace. She wears it there because she doesn't want people to see that she's got a ring."
The former insurance broker, Jamie Horn met 36-year Sheridan Smith three months ago, around February 2018 on the dating app, Tinder; Sheridan previously claimed someone had set up a fake profile posing her.
Dating speculations got the duo after they were photographed together in a car, leaving from London restaurant, The Ivy Club in March 2018.
Later, Sheridan spilled the beans on her new boyfriend during her performance at London's Royal Albert Hall in April 2018 with a surprise. She kept the identity and her engaged status to herself only affirming the dating scenario.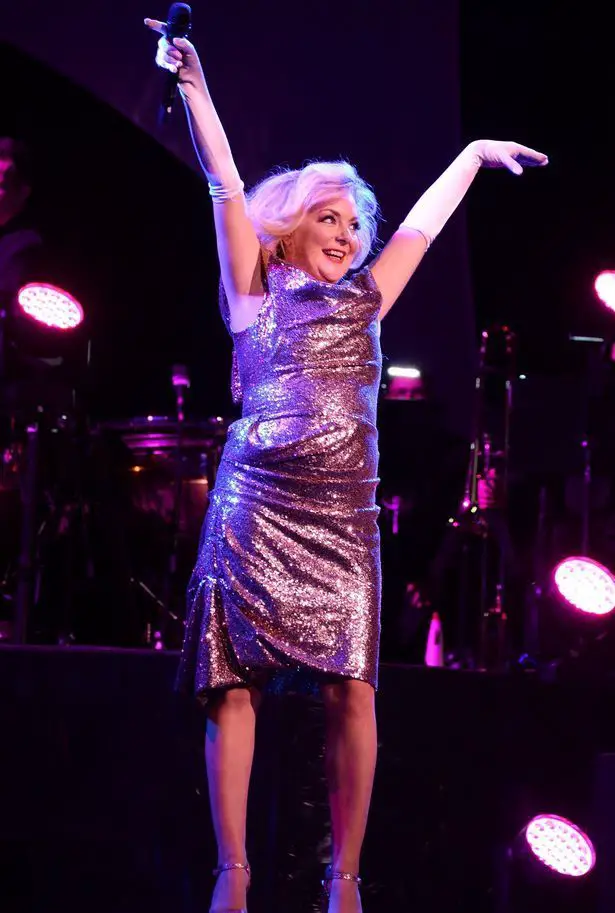 Jamie Horn's fiancee Sheridan Smith at the Royal Albert Hall  in London on 23 March 2018 (Photo: mirror.co.uk)
Also performing Rufus Wainwright's song Dinner at Eight on stage at Cardiff, she came with the most significant revelation.She stated: 
'Right that song — that was my fella's favourite. Oh, did I not tell you? I've got a fella. Don't act so f***ing surprised, thank you. I know, you think it won't last — it probably won't. Anyway, that was his favorite song."
The happy news about the yet-to-be-married couple aired after the actress admitted that men make her crazy. She stated in the event, 
"Do you know what really makes me crazy? I think you will understand, or I hope you girls will, but men, they send me up the wall. But it's true they play games don't they? And I don't mean KerPlunk. They play head games."
Well, this is not the first relationship she has indulged in! 
Addressing her dating history, she commented in an interview with The Sun on May 2018 claiming:
"It's true I've had a lot of rats kissed a few frogs I keep going back for more — don't know what's wrong with me. Why do I keep going back for more?"
Before she met Jamie, Sheridan has been with strings of men in the past including James Cordon, Ricci Guarnaccio, Greg Wood, Andy Hopkins, Graham Nation and Stuart Tomlinson.
Like his fiancee, Jamie also got dating history with a girl named Paris. Jamie backed off from his relationship with his girlfriend a year ago.