News
Jesinta Campbell is Married? So, Why did She Choose to Keep Her Wedding with Husband Buddy Franklin a Secret?
The 25-year-old, Australian model, TV host, and beauty pageant winner of Miss Universe Australia 2010, Jesinta Campbell tied the knot secretly with AFL player Lance Franklin(Buddy) November 4th, 2016, at the Mount Wilson's Wildenstein Gardens in the Blue Mountains in New South Wales. 
Along with the bigger commitment in her life, Jesinta has chosen to go by the surname of her husband, Lance Franklin: Jesinta Franklin. Mr. and Mrs. Franklin had an intimate wedding ceremony with family and close friends. 
There is a bigger and happy news for the couple in their wedded bliss. The Dior Ambassador revealed that she cannot wait to have a baby with her husband Buddy Franklin. In an interview with the Daily Mail Australia, she shared:
'We are a married couple so we'd love to start a family,
 
She further added:
'But right now we are just really busy with our careers and just enjoying life and whatever happens happens, it's up to the universe now.' 
 
She is not pregnant yet but she did flaunt her flat tummy and people cant help but droll over her.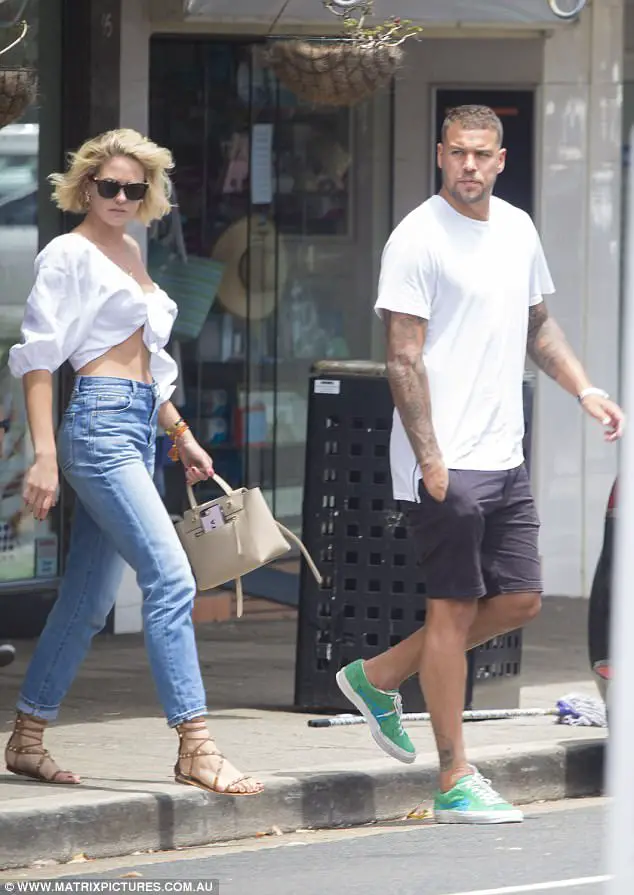 Jesinta steps out with her beau Franklin wearing jeans and white top in Sydney (Dailymail)
The couple exchanged vows back in 2016 in Australia which was a low-key ceremony.
Jesinta, the bride, wore full-skirted Vera Wang gown and Buddy, the groom wore Hugo Boss in their wedding.
Mr. Franklin is cherishing the moment saying the headache was worth it.
Jesinta shows off her engagement ring that worths approximately $75,000-$100,000 from her husband, Franklin.
The pair had prepared to get married soon after their engagement in 2014. However, Jesinta and Buddy had to reschedule their marriage because Jesinta's to be husband had some mental health problems. Jesinta remained supportive and caring of Franklin during those tough times. 
In a  video, Jesinta explains that she broke down totally and was emotionally unstable when her boyfriend, Franklin went through depression, and she did her best to overcome the situation while people made nasty comments about her and her husband.
Avoiding Paparazzi is Tough!
Jesinta didn't want to have a big and famous marriage instead she wanted to celebrate it with close friend circle and enjoy every moment blissfully. Moreover, Jesinta and buddy even used fake names-Shaz and Tony- to book the wedding venue avoiding paparazzi. 
Even the guests were confused giving them few other wedding venues, later the wedding ceremony was held in New South Wales.
Just married model, Jesinta's first photo shoot after the nuptial, finally shared her feelings and experiences to Harper's Bazaar about that magical day,
"Getting married was such a sacred, reverent thing, we wanted to keep it secret."
Jesinta posts about her shoot for Harper's Bazaar showing her enthusiasm as Mrs. Franklin. " So excited to reveal my first @bazaaraustralia cover !! Thank you@kelliehush ???? Dreams really do come true @missannieKelly. My first shoot as Mrs @buddy_franklin23 on sale Monday ???????????.
The beautiful Jesinta usually keeps her personal and professional life separately but she ruled that out as the couple got featured on the cover of the Marie Clarie and her husband Buddy Franklin could not stop gushing about his beautiful wife.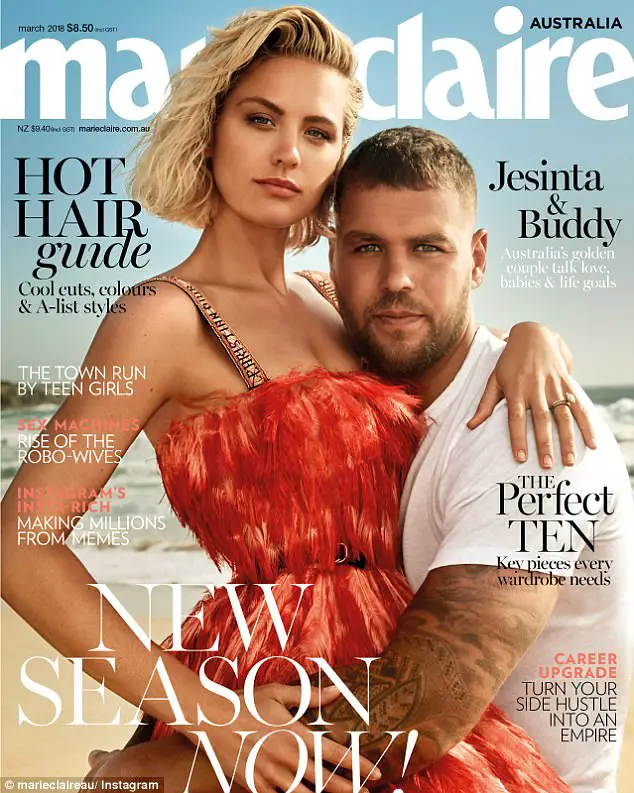 Jesnita along with her husband on the cover of Marie Clarie (Dailymail)
For now, the two are busy in their respective career and has left the family planning in the hands of the universe.