News
Jesse Wellens On Demise Of Mom And Affair With Girlfriend, Moving On From Tragedies
Philadelphia native YouTuber Jesse Wellens is famously known for his YouTube channel PrankvsPrank. If you are one of his fans, you must be familiar with his hilarious prank challenges but how well do you know about his personal life?
Well, if you are curious to know him on a personal level then join in the context below as today we have shared some facts about his life behind the cameras.
Jesse Wellen's Personal Life
The handsome Jesse, who appears funny and hilarious in his videos has already dealt with distressing situations in real life. In December 2015, Jesse's mother Stella Wallens, who was suffering from severe depression, disappeared after being seen in Willow Grove, Pennsylvania. After a week of vanishing, she was found dead in a vehicle parked in a business lot by the Upper Moreland Township police.
The heartbreaking situation was mourned by Jesse along with his friends and also followers. Jesse uploaded a post on his Twitter on 21st December 2015 and dedicated a message for his mom. He simply wrote, 
I love you mom.
After a year of Stella's demise, Jesse coped with a breakup with his long-term wife-like-girlfriend, Jeana Smith, who had been his video partner for numerous documentations. Jesse and Jeana officially quitted their ten years long relationship via one of the videos they named 'A NEW CHAPTER' which was published on 18th May 2016. Jesse started, 
This is probably going to be the hardest video that we ever had to make on YouTube for right now. Jeana and I for some while now are having some issues in our relationship and it's been hard. Alot of stuffs goes on that we dont record!
Adding more, Jeana said, 
Everybody thinks everything's perfect… and it's really not at all, Everybody has problems, everybody has issues and we choose not to put that in the videos usually.
Furthermore, Jesse got to the point and hinted that they are taking a break from their channel and also from each other.
Jeana and I Are going to take a break from vlogging, we're gonna take a break from each other. I'm gonna move to New York city, Jeana's gonna stay here and we're going to take some time off.
Though the couple made a definite conclusion of their splitting, the two were again seen together in August. In August 2016, the two partners recorded a new video where Jesse can be seen giving a piggy ride to Jeana. Since they appeared together in thier new video, there aroused speculations for their rebounding. However, Jesse clarified they were just good friends and we're going to a Logic show along. He said, 
"Yes, we're friends and we like to hang out,"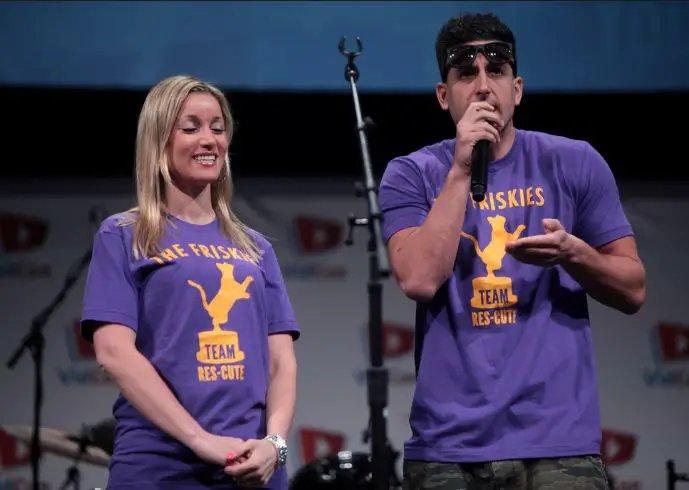 Jesse Wellens and Jeana at Anaheim Convention Center in Anaheim, California in 2014 (flickr.com) 
Though the couples have called it quits, their fans are still hoping to see them getting back together as lovers. Anyway, Jesse gave his fans a new reason to get surprised after the breakup. Back on 22nd May 2016, Jesse through a tweet which he deleted afterward disclosed the fact that he may have a daughter. He wrote that he has a 14-year-old daughter, Luchia who doesn't know him even if she watches his videos. 
After around ten months of his revelation, Jesse even made a vlog named 'My Daughter Story'  where he answered all the questions of his fans raised due to the disclosure of his secret daughter. Through the video, Jesse said that he dated a girl back when he was nineteen before he joined the military. It was after his training at the Bootcamp that he knew he became a father and full-heartedly accepted the responsibility. 
But after he went for the training in the police academy, Jesse got a hint that he was not the only one who was suspected as a father of unborn baby as his girlfriend was going out with some other guys as well. His girlfriend was cheating on him, and after calculation, he found that there was only 33.3% chance for the girl to be his daughter. 
The baby got adopted by a family in New York, and Jesse was in touch with them till his daughter was six years old. Since then, the family cut him off, and he hasn't heard of his daughter. 
Knowing that the daughter could be his own somehow and is living without knowing who her real dad is, Jesse said,
 "There's a 33.3% chance that that's my daughter and that just freaks me out every day".
Possibly, Jesse's only reason to move out to NewYork after the split with Jeane is also to find his long-lost baby. Besides, Jesse got arrested for flying a drone at the Burning Man on 3rd September 2016. The arrest resulted in his shoulder dislocation and also arm wrench.
It looks like the Youtuber Jesse, who is at the age of 35, is always defending himself from tragedies while struggling to get to the top of Stardom.