News
JJ Redick's Rock Solid Stats That Had Him a Sweet 1 Year Contract And A $23 Million Deal!
Now Philadelphia 76ers fans have something to be happy about!
Free-agent guard JJ Redick has sealed a one-year deal worth $23 million with the Philadelphia 76ers after the two parties reached an agreement on the contract. Redick signed a one-year deal with the 76ers, and the contract is worth $23,000,000.
His contract includes $23,000,000 guaranteed amount, an annual average salary of $23,000,000. In 2017-18, Redick is set to earn a base salary worth $23,000,000 carrying a cap hit value of $23,000,000.
Redick, who was the 11th overall pick for the Orlando Magic in the NBA draft 2006, now has a new home in Philly.
Signing with the Sixers, he said,
"It's where I wanted to be,"
Moreover, he took over his official Twitter to share the news of him heading to Philly.
Redick spent his past four seasons with the Clippers of Los Angeles and now could also aim to parlay the one-year contract into a multiyear deal over the course of next summer.
Similarly, Redick had formerly had talks about a two-year deal with the Brooklyn Nets and also a longer-term deal with the Timberwolves from Minnesota.
All of these is a good sign for the Sixers, who now have the cap space and have bagged a shooter they needed, as Redick can space the floor between the likes of Markelle Fultz and Ben Simmons. 
The Sixers locker room is also something that is a great place for players like Redick, who has been relentless in maintaining a great body state after some heavy workloads during his time with the Dukes.
His success with his college team is something that set the path for him to take his career forth and his college stats speak for themselves.

Caption: J.J. Redick College Stats.
Not only are his college stats amazing, but his overall stats also had something to do with the Sixers signing him.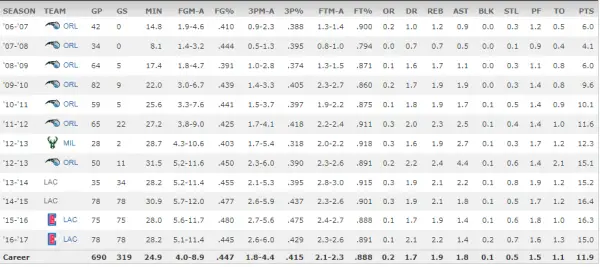 Caption: J.J Redick's Overall Stats.
Photo Credit: espn.com
Now it is the fans of the Sixers who get to enjoy Redick smash his dunk.
Caption: J.J Redick's Dunk Versus Atlanta Hawks Published on Apr 29, 2011.
Home new home!
Jonathan Clay "J. J." Redick is an American basketball player who last represented the Los Angeles Clippers. He was born on June 24, 1984, in Cookeville, Tennessee, United States and is now a 76er. Redick stands at over 6'4" in height and weighs around 190 lb.
The shooting guard has represented teams like Orlando Magic in the past, and the pay he received over there and involvements with Milwaukee Bucks and LA Clippers have helped his finances the world of good, and as a result, he currently enjoys a healthy net worth of $26 million.