News
Joey Chestnut's New World Record on Hot Dog Eating Contest: 70 Hot Dogs in 10 Minutes
Last year on July 4, 2015, with sixty-two hot dogs eaten in ten minutes, Matt Stonie defeated Joey Chestnut, who had sixty. However, the rivalry that started from 2014 did not stop there.
The awakened 'Hot Dog Eating Giant':
This year on the same day as every time on July 4, Joey Chestnut redeemed his glory. Yes, Joey Chestnut broke the last year world record successfully set by Stonie, which was sixty-two hot dogs eaten in ten minutes by the count of eight. This is the difference between the world record of this year and the previous one.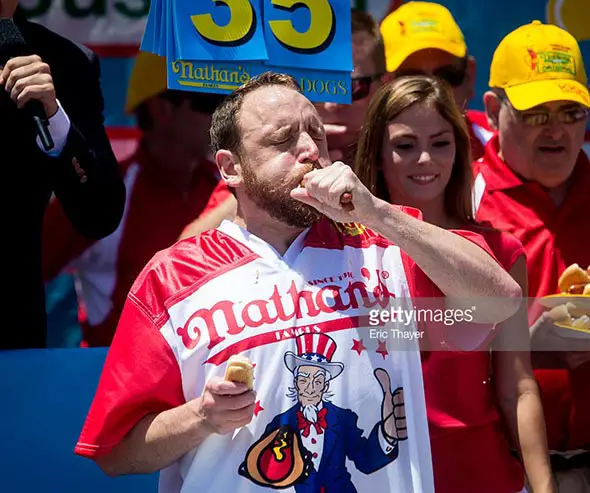 Caption: Joey Chestnut eating a hot dog in Nathan's hot dog eating contest, 2016.
Source: gettyimages.com
This year, Joey defeated Stonie by the astonishing count of seventeen. The top four competitors are listed below:
Joey Chestnut 70 hotdogs
Matt Stonie 53 hotdogs
Carmen Cincotti 42 hotdogs
Gideon Oji 38 hotdogs
Keeping Joey's last year performance in mind, this is a big improvement he has now successfully become the only person to have eaten seventy hotdogs in a time duration of ten minutes and has also set a new world record. In an exclusive interview with The Wall Street Journal, he said,
"I went back and lost some weight, got healthier; I worked on my capacity, grew a little beard, and came back and won."
Here is a video of the competition. From the starting to the very end.
At the very half of the competition at five minutes, Chestnut already had forty-three hotdogs inside his belly while his rival Stonie was ten hotdogs behind. At this moment, this eating giant holds forty-two world records for eating a heavy quantity of food. After his victory, he said to the crowd,
"Last year was rough, this year was the best ever.''
A fun fact for all our viewers. Joey Chestnut now has five top performances including his recent performance in the hot dog eating history.
According to a report of Darren Rovell, Joey ate 19,600 calories. That is a huge amount of calorie when comparing to the average daily calorie intake, which is 2,400.
Joey Chestnut took in this in 10 minutes at Hot Dog Eating Contest: 19,600 calories, 1,260 g of fat, 54,600 mg of sodium & 700 g of protein

— Darren Rovell (@darrenrovell) July 4, 2016
Born on November 25, 1983, Joey Chestnut started his career as a competitive eater in 2005 in a deep-fried asparagus eating championship and won in the first place. The same year he entered the annual Nathan's Famous hot dog eating contest and secured third place in it.