News
Johnny Iyzzini Cornered For Sexual Harassment! ABC Dismissed The Great American Baking Show Amid The Revelation
Sexual misconduct allegation never seems to stop!
The Celebrity pastry chef and one of the Judges of "The Great American Baking Show," Johnny Luzzini after being alleged of sexual harassment by various women, has resulted in ABC pulling out the baking show from its schedule as per reports on December 13.
An ABC spokesperson in a statement to 'Variety' said,
"In light of allegations that recently came to our attention, ABC has ended its relationship with Johnny Iuzzini and will not be airing the remainder of 'The Great American Baking Show' episodes, ABC takes matters such as those described in the allegations very seriously and has come to the conclusion that they violate our standards of conduct. This season's winner will be announced at a later date. Episodes of 'The Great Christmas Light Fight' and 'CMA Country Christmas' will take its place this week and next."
The season 3 of the baking competition series which was formerly known as, "The Great Holiday Baking Show," debuted just last week with the second episode which was all set to air this Thursday night.
Furthermore, four of Johnny's former employees spoke with 'Mic' back in November claiming that Luzzini abused and sexually harassed them.
A woman, who opted to remain anonymous claimed that the chef stuck his tongue in her ear on separate occasions "three or four times." The same woman reported that Johnny would often use kitchen utensils to touch female staffers on the buttocks indicatively.
Johnny's creepy behavior also included standing behind the employees 'really close' and 'breathing on their neck.' The series of incidents reported by the former employees took place between 2009 and 2011 at the Jean-Georges restaurant.
Two pastry chefs and two externs who worked at the restaurant also reported that the work environment in the 'Jean-Georges pastry kitchen' was rampant with incidents of sexual harassment.
The second report surfaced later where two of his accusers said that the management was aware of the allegations since 2004, and the other two claimed that Johnny abused his influence and power over female associates and subordinates.
However, Johnny opened up on the matter after series of allegation following him,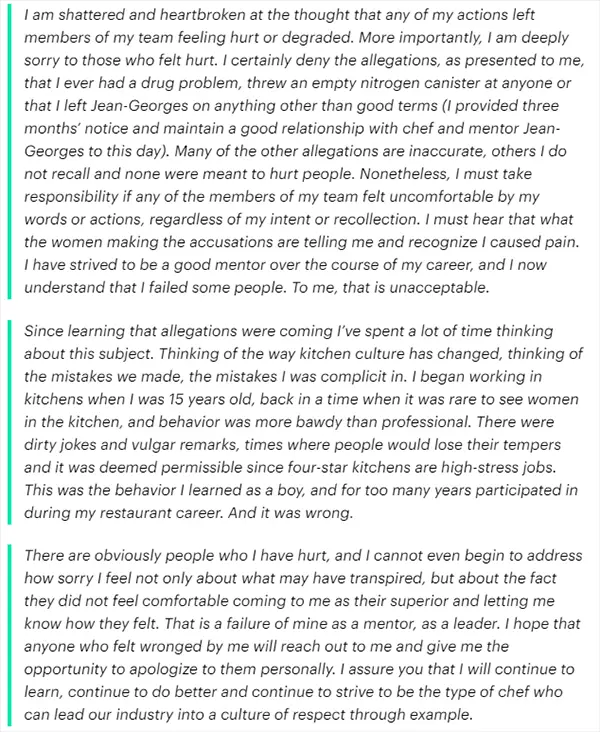 Caption: Johnny's statement on being alleged of sexual harassment and misconduct.
Photo Credit: Mic.com
Though Johnny denied many of the allegations, he did apologize for his action that might have hurt others. However, it barely is of any use now!
Johnny Iuzzini's Short Bio:
43 years old, American television celebrity, pastry chef, and cookbook author, John Joseph Iuzzini III, who is now surrounded by sexual harassment allegations, was born on August 31, 1974. The Forbes 2007's '10 Most Influential Chefs in America' award winner, Johnny is a graduate of 'The Culinary Institute of America' and has even served as executive pastry chef at three-star and four-star restaurants. Moreover, he also has been on the judges' panel of various cooking shows like- Top Chef: Just Desserts, Food Network's 'Chopped Desserts,' and few others. Additionally, Johnny also owns his own pastry consulting company named "Sugar Fueled, Inc."
Furthermore, shifting lights from his professional front, Johnny is accomplished in his love life too. Although he isn't married and doesn't have a wife; he is currently blessed with his dating affair with girlfriend, Gia SanAngelo, who works as the general manager of 'Untitled NYC.' The couple looks happy and gay in one another's company!
The relationship timeline of the two, however, is kept veiled!