News
Figure-Skating Johnny Weir Back at Pyeongchang Olympic 2018! Plus Personal Life
Johnny Weir, national figure skating champion is back on 2018 Olympic Winter Games as an analyst along with Tara Lipinski, as the Pyeongchang 2018 Winter Olympic had its opening ceremony on Friday, 9 February 2018.
Johnny Weir, who took home a bronze medal in World Figure Skating in 2008, yet again paired up with Tara Lipinski, raising a collective interest on the internet.
However, the duo is set for the fierce figure skating commentary on the NBC broadcast as they are on the lead team for figure skating at Winter Olympics. The two analysts were no more than a B team four years back when they stole the show at the Sochi Olympics.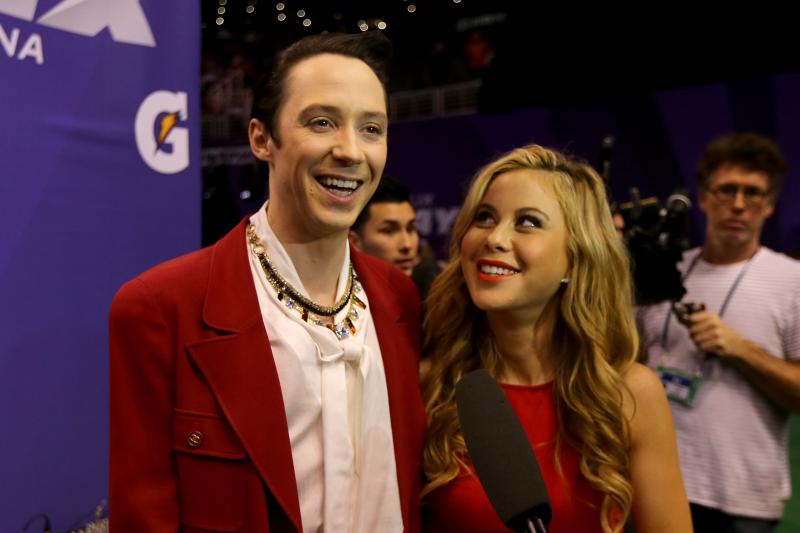 Johnny Weir and Tara Lipinski will be NBC's lead team for figure skating at the Winter Olympics. (bleacherreport.com)
The duo shared a bond with each other from back in time which made it easier for them while they put their opinions among the viewers. Jhonny shared about his compatibility with Tara with Bleacherreport on 10 February 2018, stating,
"Some commentators stand on opposite sides of the booth, and they don't even look at each other. Tara and I sit in each other's laps."
However, the former Olympians were competent to grab the range of reactions from the viewers with their strong opinions and well-built personality.
And believe us; the duo spared no one's feelings during their reporting!
Johnny Weir's Personal Life:
Johnny Weir, a figure skater who starred in his own show called 'Be Good Johnny Weir' has had his shares of ups and downs in his romantic relationship.
Johnny was married to attorney Victor Voronov on Dec. 30, 2011, in an intimate courthouse wedding.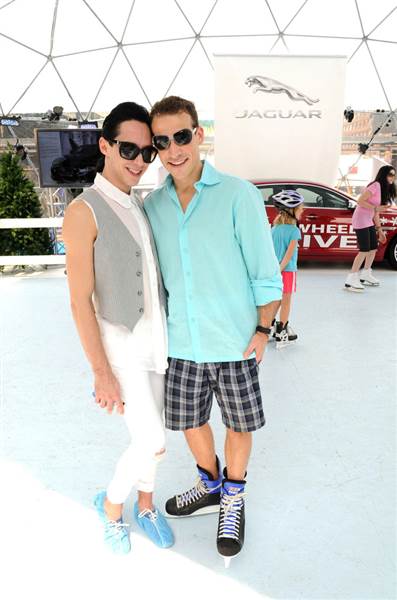 Johnny Weir and his ex-husband Victor Voronov who married in 2011 (today.com)
However, the relationship could not witness the Olympic finish as the couple parted their ways. Jhonny announced his divorce with his Russian husband Victor on Twitter on March 19, 2014. On his Twitter, he wrote,
"It is with great sadness that I announce that my husband and I are no longer together. My heart hurts, and I wish him well."
While talking with Access Hollywood, Jhonny opened up about his relationship with his ex-husband before their marriage took the sharp turn. Victor was shy about opening up his sexuality but came front only a month before his marriage. Jhonny stated,
"My husband was actually in the closet until about a month before we married,"
He added as he shares his marriage experience,
"Being married is an adjustment and I'm such an OCD, solitary, confined person that it was very hard to open my life and my home and, in some ways, my closet to somebody else. That was the hardest thing to get over, but being married is blissful."
Well, all couple do hit the bumps in their road and being a gay couple come with next level of challenge. He expressed that being married to a guy is far different than what he imagined it to be. He shared,
"We're both constantly trying to fight to wear the pants in the relationship."
However, Jhonny was shocked by the abrupt ending of his marriage.
But it looks like the 2004-2006.U.S. National figure skating champion, Jhonny, is up and away from his relationship trauma and yet again set to blow off minds with is integrity, don't you think so?
Express your views in the comment section below!