News
Jordan Barrett Sparks Dating Rumors With The Weekend's Former Girlfriend Bella Hadid!
Just a day after alleged dating rumor with renowned bad boy Jordan Barrett, Bella Hadid denied the supposed romance through Twitter posts.
In couple of Twitter posts, the 20 years old model addressed the rumors writing,
Moreover, she also mentioned about the photos taken of her apartment on her Twitter which reads,
On another note-whoever thinks it's OK to photograph into someones home &private space is straight up sick, sad&fucked up. time to move?????????????????

— Bella Hadid (@bellahadid) June 13, 2017
Now, it seems those who were expecting the models, both 20, to date know that ain't going to happen this soon, as Bella cleared up the ongoing rumors.
The rumor hit the headlines after the pair was seen cozying up in the New York apartment of Gigi Hadid's sister. The runway star was seen wearing nothing but a white tank top and black panties, and on the other side, Jordan was shirtless.
The pair was seen on a flirtatious display taking selfies in the bedroom and later on in the balcony.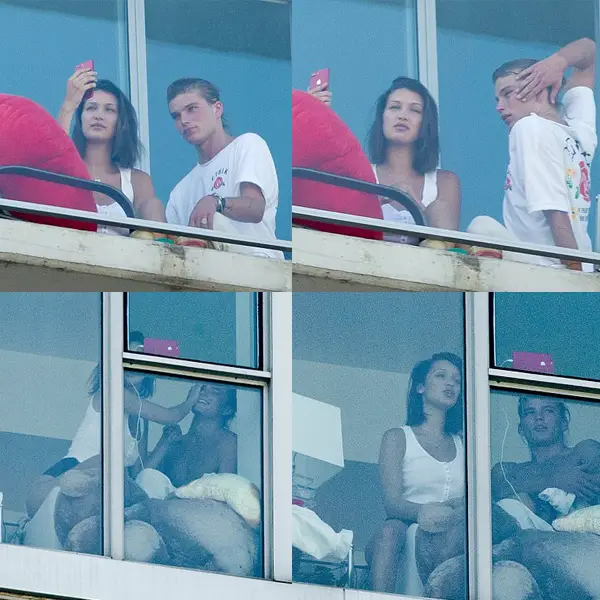 Caption: Jordan Barrett and Bella Hadid was snapped together cozying up in the New York apartment of Bella. 
Photo Credit: liverampup.com
Later that day, the rumored couple attended a Charity Foundation Party. The duo appeared to participate in the event separately but stuck close to one other inside the venue.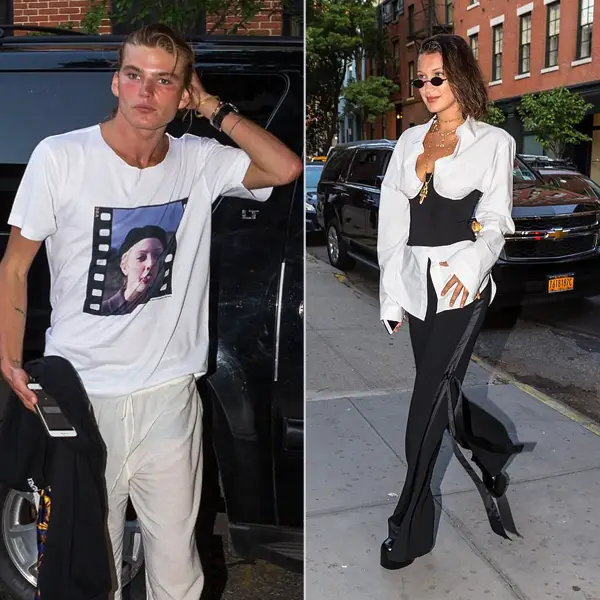 Caption: Jordon with his alleged girlfriend attended Charity Foundation Party few hours after taking selfies in the apartment. 
Photo Credit: liverampup.com
Not only that, the alleged couple was spotted several times spending time together, which Jordan Barrett also took to Instagram. The duo, along with their friends was partying in the yatch-top in Cannes.
As per source, the Australian model and American fashion model is trying hard but just taking it slow. The source stated,
"Right now, [they're] are just hanging out, hooking up and having fun together. Bella would definitely like to get more serious, but she's aware of Jordan's bad boy image, so she's being very cautious."
The sources further added,
"Jordan's a renowned playboy, and Bella doesn't want to get her heart broken again. She's trying not to get too emotionally involved, but it's tough. They have an awesome connection, both physically and mentally, and Jordan appears to be really into Bella too, but she's still being cautious."
And that means both the models are still in the market. Heads up, folks!
More about Jordan and family:
Australia-born model's family had been quite a topic to talk about a year ago. The hunk has a dark family background and now is a popular model.
Jordan was born to parents Adrian Barrett and Julie Barrett. The son of drug dealer Adrian turned model is now the face of IMG.
The playboy who is known for his over-partying nature often mentions about his mother in interviews. He once referred how his mom is always about him.
The Bryon Bay native said,
"I think I've proved to them there's not a lot to be worried about,"
He added,
"She knows I have my head on. She's always making sure I'm healthy and eating. I actually feel very together, in this situation."
The ladies who have got a long list of beauties in dating list is often speculated as gay, and that has been proven wrong by the model time and again with new link-ups.