News
Josh Beech & Wife Shenae Grimes, 'Mr. & Mrs. Beech' Expecting First Child!
Indie folk singer-songwriter, Josh Beech is all set to welcome baby Beech with his wife Shenae Grimes, the 90210 star. The pair announced they're expecting a daughter on 3rd May 2018.
The couple revealed the news of them expecting their first child in an exclusive interview with PEOPLE. Josh, who still has the plan to release music with Jaguar Bones, shared his feelings with the magazine revealing how excited he is to welcome his first child into this world. He stated:
"To say that I am over the moon that we are going to be having a little baby Beech is a huge understatement,"
Josh, who is currently focused on fashion photography, added,
"Life's about to get a whole lot wilder, and I can't bloody wait!"
Not only Josh, but his wife Shenae opened up with the magazine as well. The actress, 28, shared how she can't wait to venture on the wild ride with her other half. Shenae expressed,
"I can't believe our world is about to get a whole lot bigger and brighter, and can't wait to embark on this wild ride with my partner in crime,"
Adding to it, Shenae, who's currently on hiatus from her new TV crime drama The Detail, talked on her blog Lost In LA about her pregnancy. She revealed that the pregnancy was not planned but was surely welcomed. Shenae wrote,
'It wasn't totally planned but we decided to let the fates determine when the timing was right for us to hop on this ride of a lifetime and evidently, they thought the time was now and I couldn't agree more,'
Moreover, she shared the happiness that lives in their house and how they would love to share it with their baby girl. She wrote,
'We have so much love and laughter in our house that in a way, it'd feel selfish not to share it with another little human.'
Likewise, the pair even shared their happy news in their social media; Josh uploaded a picture holding his wife's growing baby bump while posing for a picture. Josh captioned the picture writing,
"Nope, Shenae didn't just beat me at a pizza eating competition. Can't wait to meet our baby girl. Love ya @shenaegrimesbeech, you're a f--king babe and I love you already my baby girl Beech."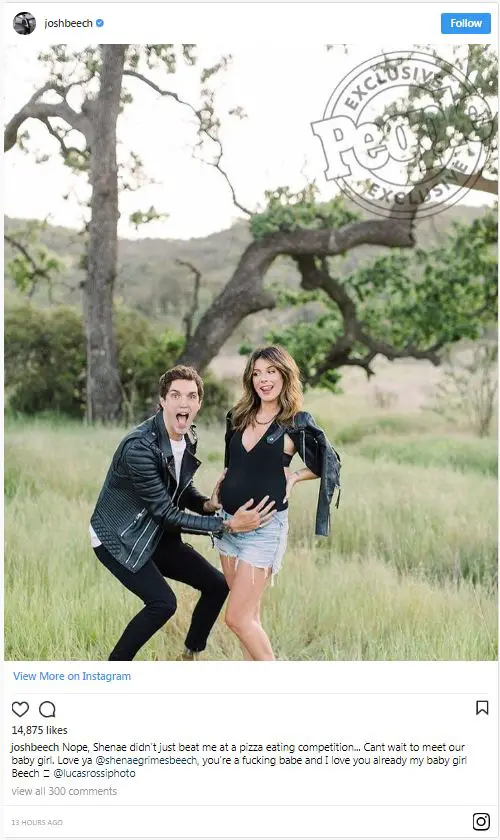 Josh Beech with wife Shenae Grimes (Photo: Josh Beech's Instagram)
Moreover, Shenae, who holds a net worth of $4 million, also posted on her Instagram revealing the pregnancy news to her fan followers. She shared a picture of her with Josh holding his arm while Josh rested his chin on her head. The caption read:
"Well it's official… I'm definitely a grown-up! @joshbeech and I are so excited to welcome this badass baby girl into our world and I am so thrilled to be able to finally share this crazy journey with you guys!"
The pregnancy announcement from the couple came after five years of their marriage. The pair first met in 2012 and Josh popped the question in December of the same year after dating for around nine months.
The pair got married later in May 2013 in Kent, England and on her wedding day, Shenae wore a black wedding dress while the pair exchanged their vows to Led Zepplin's Whole Lotta Love.