News
Katie Derham to Introduce First Night of BBC Proms 2016
The prom queen, Katie Derham, is again set to introduce the famous Proms, formerly known as BBC Proms tonight, at the Royal Albert Hall when she puts her dance shoes and ball gown along with some professionals from Strictly Come Dancing. The prom will be broadcasted on BBC2 from 7:30 pm.
This 122nd season of the BBC Proms, which is eight weeks long, will be featuring more than 90 concerts. The first night of the Proms is set to take place today with Tchaikovsky's ravishing 'Romeo and Juliet' overture kicking off the world's greatest musical festival which will mark the 400th anniversary of the death of Shakespeare.
A glimpse of last year's BBC Prom.
After Katie Derham introduces the BBC Proms, this will be her seventh year as a host. This might be the reason why she got the title as the prom queen on her twitter info bar, @thekatiederham. However, in her previous years, she only used to act as a presenter unlike tonight when she is also going to perform. According to radio times, Katie will be dancing alongside the likes of Janette Manrara, Giovanni Pernice, and Aljaz Skorjanec.
The mother of two will be performing tonight and will whisk the audience from Vienna to Latin America. According to BBC, if you ever wanted to know what is the difference between English and Viennese Waltz or how classical composer approached the Charleston and the tango, then this BBC Prom is exactly the type of prom you are looking for.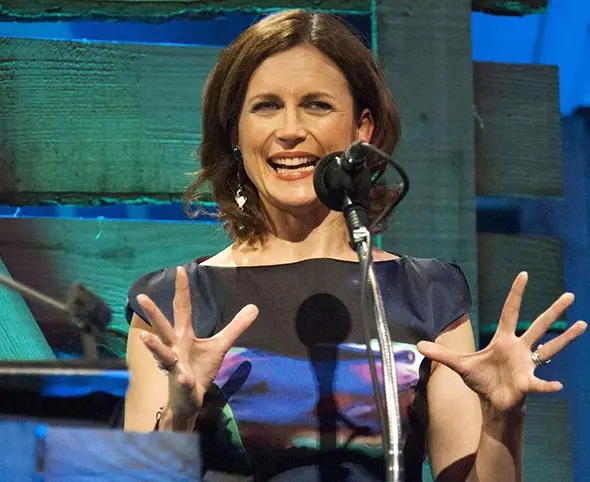 Caption: Katie Derham at The Royal Albert Hall in the 2014 BBC Radio 2 Folk Awards.
Katie Derham was born on June 18, 1970. Katie is a newscaster on television and radio. Apart from her journalism career, she also participated in the 13th series of BBC One's show called Strictly Come Dancing and finished with 4th position 2015. Katie Derham is married to John Vincent. The couples got married in the year of 1999 and are currently living with their two daughters in Rye, East Sussex.