News
Kesha Ward & Boyfriend 2 Chainz Seized The Spotlight 'A Marriage Proposal'
Another sweet proposal on the horizon!
Rapper 2 Chainz kneeled down in front of Kesha Ward on the famous Metropolitan Museum of Modern Art stairs and popped up the ring asking his long-time partner to marry him at the Met Gala last night, 7 May 2018.
Draped in a custom-made Versace suit, the 40-year-old hitmaker proposed his fiance again after 5 years since his first wedding proposal. The emotional Kesha, who had welled up because of her boyfriend's unexpected gesture, emotionally said 'Yes.'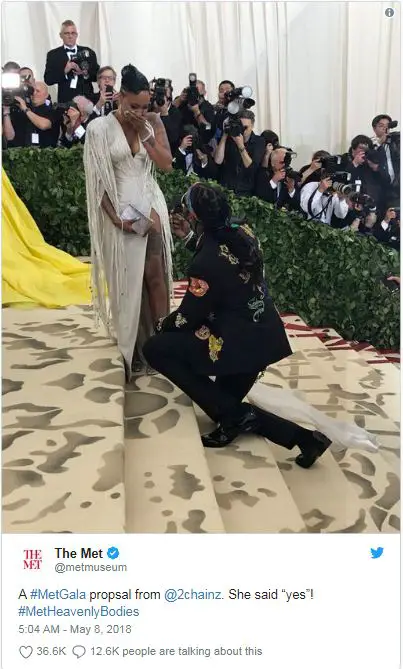 2 Chainz proposes longtime partner Kesha Ward at the Met Gala on 7 May 2018(Photo: Met Gala Twitter)
The visibly emotional Kesha along with the Mercy hitmaker posed for photos after his surprise. The beauty later told the reporters:
"I'm so happy, I'm blessed and I'm so thankful to have this person in my life."
When asked for how long had he been planning on the act, the man of the hour, 2 Chainz replied that the gesture came in his mind just a few moments ago. He even added that he should have already done that before.
And this was not the first time the middle-aged rapper had popped up the question to the beauty. 2 Chainz had previously proposed the beauty during the 2013 BET Awards but had not made the decision official.
As per PEOPLE, a source stated that the rapper and his partner had never got married despite living together and referring one another as wife and husband. The source was quoted saying:
"They've been together so long and have three children together that he always refers to Kesha as his wife, but they've never actually tied the knot!
The rapper has been along with his partner for half a decade after getting engaged and shares three children with her. The couple is parents to two daughters Heaven and Harmony along with a son Halo.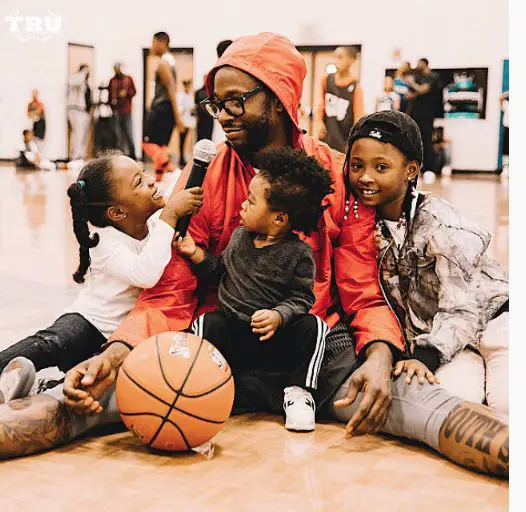 2 Chainz with children, Heaven, Harmony, and Halo at the fourth annual 'Tru 2 Hoops' event in Atlanta, Georgia (Photo: bckonline.com)
The rapper's latest antics surely tops off the achievements he has had this year. The rapper released his newest Extended Play, The Play Don't Care Who Makes It, back in February 2018, and is busy in his fifth studio album Rap Or Go To The League.
And the rapper, who enjoys the net worth of $6 million, seems to have settled down after a long history of troubled run-ins with the law. The 5 time BET Hip-Hop award winner, has cleaned up his act and devoted his life to music and now has proposed his partner, to get married.
Congratulations to both, the rapper and his partner, who has made a spectacular start to his forties.