News
Kodak Black Behind Jail Bars! Arrested and Charged with 7 Felony Counts
Kodak Black, the rapper who is best known as Dieuson Octave, was recently arrested by the deputies of Boward County, Florida on Thursday, January 18, 2018, with seven felony charges.
The charges include grand theft of Firearm, two counts of possession of Ammo, possession of 20 grams if Cannabis, child neglect and two counts of probation violation.
Kodak, who was arrested on Thursday night, was live on Instagram when the SWAT team raided his house. On the video, there was an argument about turning his cell phone to the authorities.
Fans thought Kodak was trolling them in the video; however, they were shocked them later as his arrest news surfaced the media. In the video, a man could be heard saying,
"Your phone is part of this search warrant. You are not going to get your phone back,"
The rapper recently released his music video "Roll In Peace" single with rapper Jahseh Onfroy, where he was seen throwing cash on the courthouse floor. These two rappers have their shares of legal battles.
In the video, the rapper is seen in orange prison jumpsuit rapping in the church, courthouse and the bedroom. Onfroy is due to attend the court on January 27 with accusations of false imprisonment and witness tampering.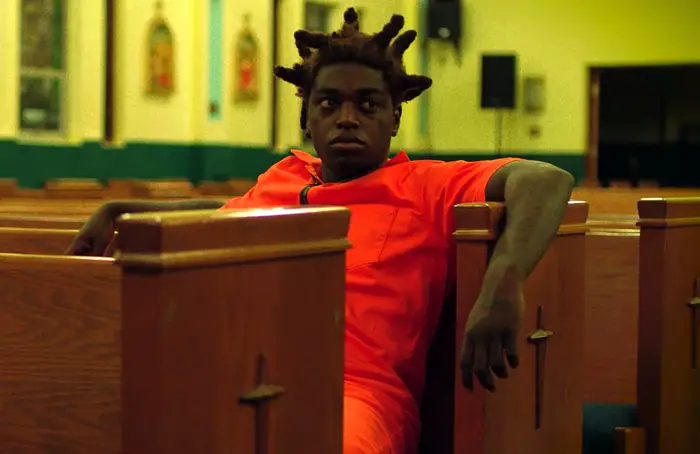 Caption: Kodak Black in Orange prison jumpsuit in his video "Roll In Peace."
Photo Credit: rap-up.com
Koadk, who has his career in the rising recently, settled two of his lawsuits.One of the lawsuits was filed by the promoters of his performance which was scheduled in Florida(which he allegedly skipped), and another was from automobile financing company for wrecking the BMW.
However, for Kodak, this wasn't the first time he was arrested and charged with a felony. Kodak has been taking tours of the jail and police station since his mid-teens.
He was accused of sexual assault back in 2016 by a teenage fan of his, who attended his stage performance on the 13th tour stop of his 30 days tour in Florida. Kodak, who had the maximum potential of facing eight years in jail back in 2017, was sentenced to 365 days in county jail.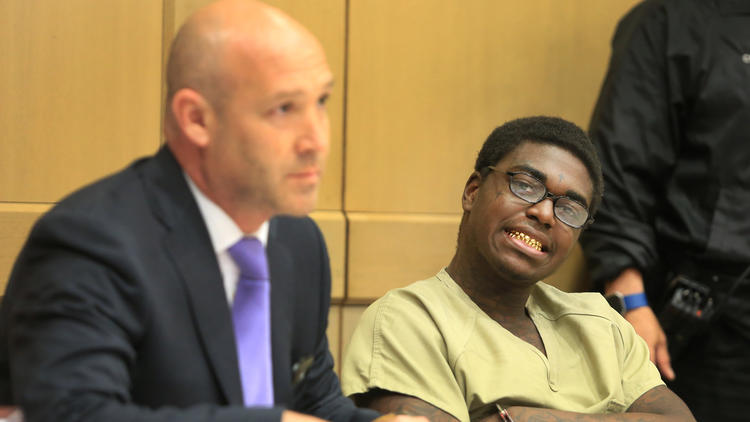 Caption: Kodal Black with his attorney Bradford Cohen on May 4, 2017
Photo Credit: sun-sentinel.com
Even though Kodak has spent most of his time swirling around the court and the police station, his rap songs are the stories that his fans relate to their own lives. He has his fans on his support for as many time as he gets accused.
Kodak, being a child of the Haitian immigrant, started rapping when he was six. When he was in Elementary school, he found his way into a local recording studio, where people who became his idols would rap and sell drugs.
A.D. Julien, CEO of Oakland Park-based Dollaz and Dealz Entertainment, signed Kodak immediately right after he first heard his recording. As Kodak released his recordings, he got his name tagged along with the artist Girl Danielle who he worked with.
With his recordings going up on the Billboard chart, his fan followings grew taking him to the height of his career at this young age.