News
America's Got Talent 6 Winner Landau Eugene Murphy Jr. Get Himself Arrested For Domestic Violence! Details
Landau Eugene Murphy Jr, who won the America's Got Talent; Season 6 got arrested for misdemeanor charges of domestic battery and domestic assault in Whitman, West Virginia around 7:40 p.m. local time on Monday, 10th June. However, Murphy was released the same night on a $3,500 bond.
According to TMZ, it was the output of an argument related to their infant child which turned violent when Murphy slapped his girlfriend and hit her under her left eye with a golf club. Furthermore, he slammed on her head on the sidewalk outside, and their child was present the whole time of the incident.
The West Virginia State Police took the victim woman who got bruises and swelling around her left eye and the left side of the face to a local hospital for treatment.
Moreover, the jazz singer had a story to tell defending him, which got released yesterday through his manager Burke Allen. According to the statement, Murphy's words were:
"An unfortunate incident occurred at my home Monday evening. My girlfriend and her friends and family she had invited over had trashed the home. This has happened several times previously while I was away on tour."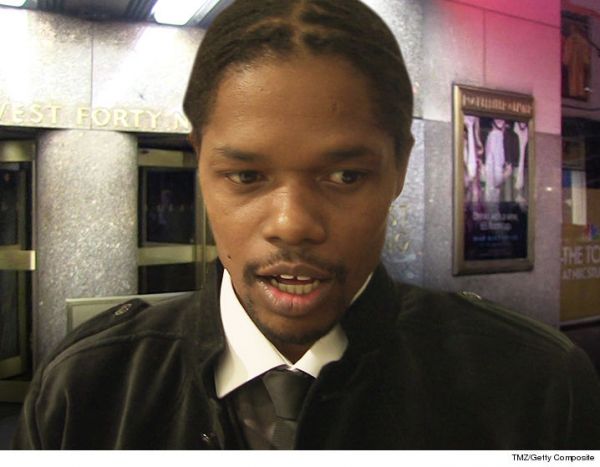 Caption: Landau Eugene Murphy Jr, got arrested on 10th July for domestic assault against his girlfriend.
Additionally, he stated:
I asked them all to leave, a heated argument happened between us and she began destroying things with a golf club. She then attacked me with the golf club - and a knife. In defending myself, she obtained some bruises and swelling on her face. I did not strike her. She filed a complaint against me anyway.
He then defended himself as:
"I was raised to respect women, and if not provoked and feeling I was in danger, I would never have defended myself in this manner. I am very sorry for the way domestic incident was handled."
He also added:
"I apologize to my fans everywhere and to the people of Logan County and West Virginia for this incident. It should never have happened."
The West Virgina Police also found the golf club in the living room of Murphy's house. Consequently, Murphy got arrested for allegedly attacking his girlfriend, who is also a mother of his six-month-old child with a golf club.
However, the arrested singer got released the same night for the bail amount of $3,500 as set by Logan County Magistrate Court. However, if he is found guilty for the case, he could face up to 18 months in state prison with $600 fine. Well, he must be hoping for the case to turn on his favor for now.
Murphy isn't the father of the infant, but he has multiple children from his past relations. As per the article of August 2016 by Connect-Bridgeport, he had four more children who now age 22, 21, 17 and 15 as well as a teenage stepdaughter.
The singer had also clued that he was still married to Jennifer Carter, a childhood friend with whom he wed in 2005. The singer hasn't revealed any information related to his net worth, but this incident inevitably declined his total figure with the bail amount which he paid on Monday.
Stay with us for the emerging updates on the story!