News
Lateysha Grace Dating Drake; Rumor Or For Real? Enjoys Quality Time Together
Welsh TV personality Lateysha Grace has been on multiple dates with the Rapper Drake since his landing in the UK in 2018. The insider alleged that the pair has been seeing each other for weeks, most recently enjoying dinner date together on 17 April 2018.
A source told The Sun,
"Drake took Lateysha to a fancy restaurant on Tuesday. They had a great time hanging out together and did not stop talking all night. He's certainly been enjoying playing the field during his time in the UK. He's a charmer."
The source further overheard the Valley star telling her friends she is planning to visit Drake in Los Angeles after he heads back to the USA. As per the source,
"Lateysha has been telling her friends she's planning on visiting Drake in Los Angeles soon when he heads back home."
Though Lateysha and the God's Plan singer were spotted together multiple times, the pair has not confirmed their romantic relationship yet. The duo seems to be keeping their affair out of media and maintain a low-key romance.
Before Drake, the former Big Brother star was engaged in a romantic relationship with Ben Charles. She also shares a two-year-old daughter, Wynter Anna Grace Charles with him.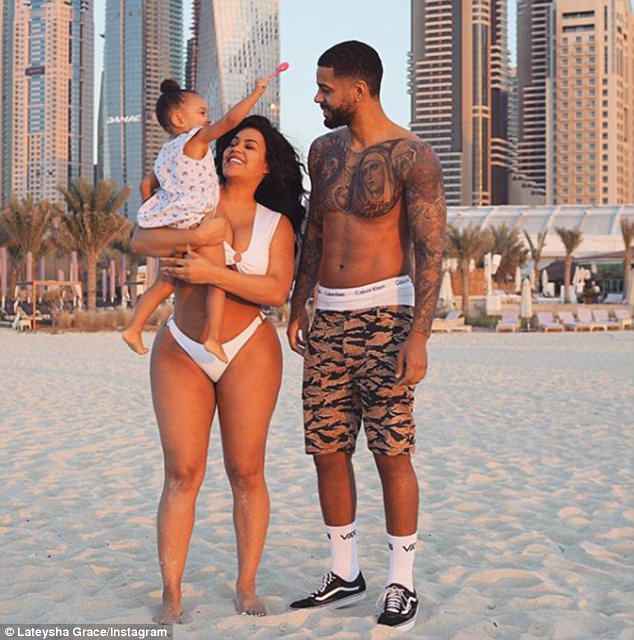 Lateysha Grace with daughter and boyfriend (Photo: dailymail.co.uk)
However, Lateysha's relationship with Ben has probably ended as she is getting close to Drake and both the Port Talbot native and Ben have not posted pictures together in a month.
As for Drake, he made headlines for dating the Decline hitmaker, Raye few days before reportedly dating Lateysha. Raye first approached Drake on Twitter asking him to listen to her music, and he was impressed by her songwriting talents.
When the two met to record, it quickly became obvious it wasn't just her music he was interested in. The Canadian rapper later took Raye to his Central London's favorite restaurant, which hinted possible romance. But neither of them officially talked anything about their relationship.
Keep Visiting to stay updated on the scoop!