Trending
Lauren Hashian & Boyfriend Dwayne Johnson Welcomes Baby No.2 'Tiana Gia'
The singer and songwriter Lauren Hashian has welcomed her second baby with her long-term boyfriend, Dwayne "The Rock" Johnson. The news of the arrival of their newborn was announced through social media on 23 April 2018 by Dwayne. The couple named their baby girl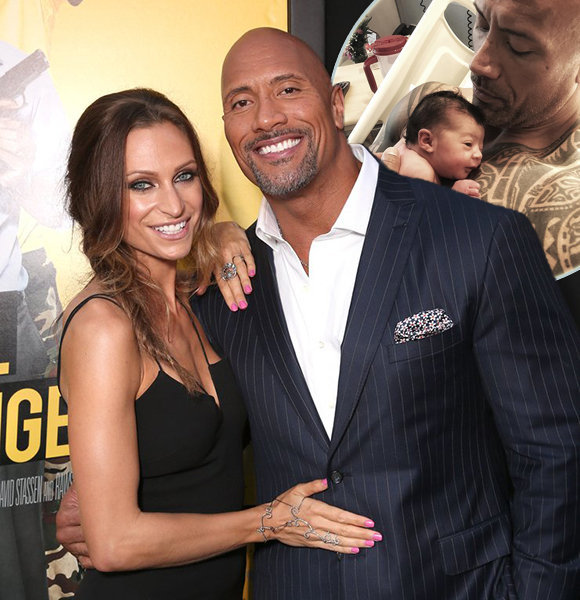 The singer and songwriter Lauren Hashian has welcomed her second baby with her long-term boyfriend, Dwayne "The Rock" Johnson. The news of the arrival of their newborn was announced through social media on 23 April 2018 by Dwayne. 
The couple named their baby girl Tiana Gia Johnson.
While Lauren lied on a hospital bed after delivery, Dwayne uploaded a picture holding his newborn baby girl in his arms and shared the news with his fans. The proud papa captioned the picture expressing how pleased and blessed he was to welcome another girl into his life. 
Dwayne wrote, 
Skin to skin. Our mana. Blessed and proud to bring another strong girl into this world. Tiana Gia Johnson came into this world like a force of nature and Mama @laurenhashianofficial labored and delivered like a true rockstar.
Dwayne further opened in the caption how he has been surrounded by strong women all his life and expressed his admiration and respect for the love of his life.
I was raised and surrounded by strong, loving women all my life, but after participating in baby Tia's delivery, it's hard to express the new level of love, respect and admiration I have for @laurenhashianofficial and all mamas and women out there.
He closed the caption with a message to his youngest daughter saying he is a crazy daddy with many responsibilities and wears many hats in this big ol' world, but being her dad will always be the one he is most proud to wear.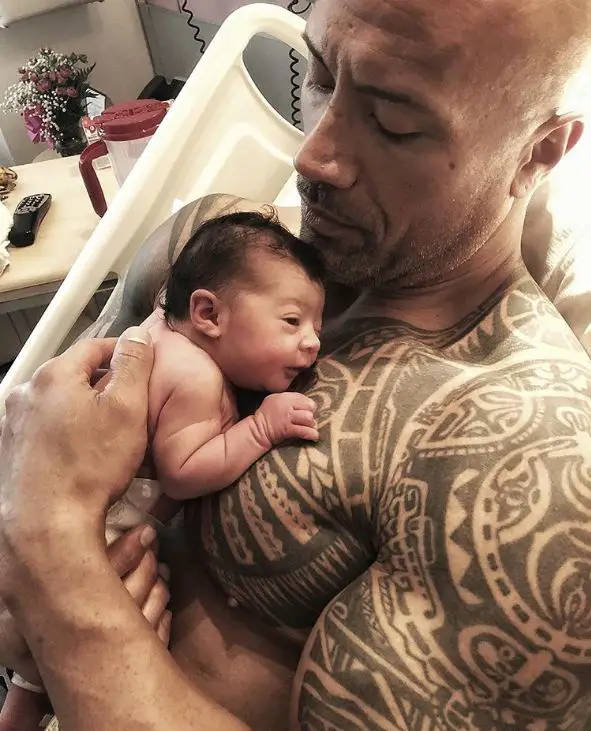 Lauren Hashian and Dawyne Jhonson's newborn baby Tiana Gia Jhonson (Photo: Dwayne Jhonson's Instagram)
Unlike Dawyne, Lauren has not made any comments yet on social media. 
The couple, who were expecting a new family member, announced the news of Lauren's pregnancy in December 2017 just after they had walked the red carpet at the premiere of Jumanji 2.
Dwayne took it to his Instagram and shared a picture of his 2-year-old daughter, Jasmine. The picture was captioned as,
Our Jasmine Lia would like to make a big announcement - IT'S A GIRL! ?
@laurenhashianofficial and I are boundlessly grateful for this blessing as this spring we'll welcome our second baby. 
Plus, Jazzy is excited to boss around and protect her lil' sis.
Jasmine is the first-born daughter of Lauren and her longtime boyfriend, Dwayne. They welcomed Jasmine into the world on 16 December 2015.
Adding to it, Lauren is also a step-mother of 16-year-old daughter Simone Alexander, whom Dwayne shares with his then-wife, Dany Garcia.
Apart from it, the once again parents have not taken the marriage vows yet. Lauren and Dwayne, who have been dating since 2007, were set to tie the nuptial knot in spring but postponed it as the pregnant mama, Lauren did not want to take wedding pictures with a baby bump.