News
LeGarrette Blount Agrees For A One-Year Deal with the Eagles! Report
The documents have been penned down, and he is moving to the Eagles franchise now!
The mighty Philadelphia Eagles signed LeGarrette Blount who has been provided with a one-year, $1,250,000 contract. The deal includes an average annual salary of $1,250,000 and is worth around $2.8 million. Certainly, this is surely going to add to his already healthy net worth of $4 million.

Caption: Blount's contract with the Eagles.
Photo Credit: spotrac.com
Blount was with the New England Patriots for three years.
Reports suggest that the Cardinals also vested interest in signing Blount before he made his deal with Philly. Similarly, reports also suggest that Blount, who ran 299 times for 1,161 yards and 18 touchdowns with the Patriots last season, was made an offer by New England for him to return.
This contract he has signed with the Eagles comes on the back of some solid stats he boasts throughout this career. He has improved every season and here is a look at his career stats to prove his mettle on the pitch.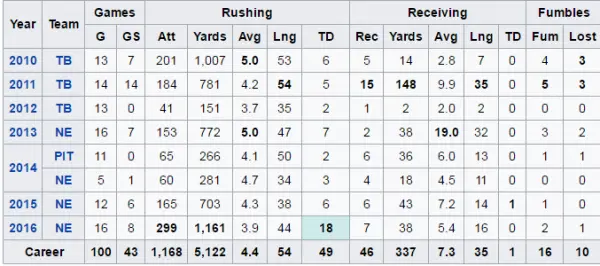 Caption: Career Stats of LeGarrette Blount.
Photo Credit: nfl.com
However, like every other professional athlete, he too has his injury concerns. On December 15, 2015, news hit the media that Blount was added to the New England Patriots' injured/reserved list for the remainder of the season as he suffered a left hip injury during a game against the Houston Texans.
He ended the 2015 season having recorded staggering numbers which included 703 rushing yards, 165 carries, and six rushing touchdowns in 12 games.
But what does not kill you makes you stronger, and a true champion is that who can come out of such phases even more stable. And the same can be said about Blount as he recuperated from his injury and then came back to hold the Patriots' record for the most rushing touchdowns in a single season, 18 which he recorded back in 2016.
That is the kind of champion player he is.
So let us hope we get to see him tear apart the opposition on the pitch more and more. We wish him all the very best for a new phase in his ever blooming career.
Stay with us for more news on LeGarrette Blount!